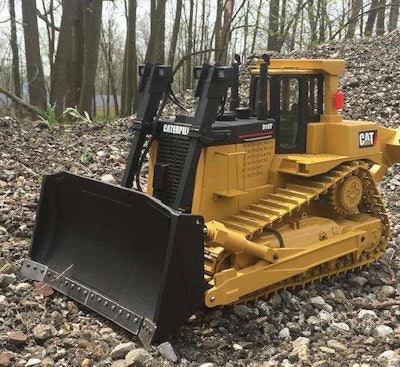 3D printing is one of those amazing, futuristic technologies that has somehow snuck beneath the radar of the majority of the general public. That's probably because most 3D printing is still done on the small scale and with plastics, but continuing innovation in the field is bringing us closer and closer to the day where we can print our own tools and equipment parts rather than ordering them or driving to a nearby dealer or store.
In fact, one guy is already building bulldozers with his elaborate 3D printer setup.
Jason Hatala is a machinist and fabricator who has been involved with 3D printing for four years. In an interview with 3Dprint.com, Hatala says he is a member of the RC Truck and Construction forum and has long loved to build scale model construction equipment.
3D printing, Hatala tells the site, has taken his model building to a whole new level. And that's not an exaggeration. Just look at the detail behind his latest creation, a remote-controlled Caterpillar D10.
As you can see in the photos above, Hatala designed all of the model's 270 parts in Autodesk over the course of about 10 days. It then took another two weeks to print the parts on two Afinia H479 3D printers using ABS filament. The only parts not printed were the mini dozer's electronics and the pins which hold the machine's 90 track pads together.
Check out photos of Hatala's process above and a video of the D10 in action below.
Via: 3DPrint.com