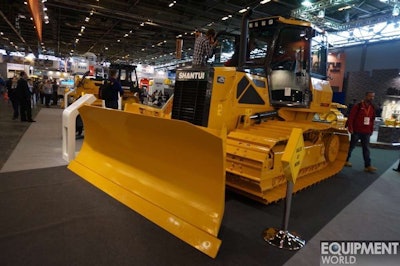 [imagebrowser id=243]
Saying it is ready to establish a foothold in developed markets, young Chinese construction equipment manufacturer Shantui announced this week at Intermat in Paris that it is launching sales of three dozers in Europe and the U.S.
Started in 1980, the company knows what it's getting into with industry heavyweights like Caterpillar and Komatsu firmly-established in developed markets. But Shantui says the SD10YE and SD13YS are capable of standing "toe-to-toe," with the Caterpillar "D5K, D6K and Komatsu D39 and D51, respectively, and boast a higher working efficiency and lower fuel consumption."
Shantui spokesman Douglas Slocum said the company has already made a few sales of the SD13YS and SD10YE in the U.S. He said company is looking to add more U.S. distributors this year, primarily in the southeast where the dozer market is strongest. Slocum said the company holds the largest market share for dozers in the world.
Each of the hydrostatic dozers are powered by Cummins engines and feature Rexroth hydraulic drives. The SD10YE features a Tier 4 Interim QSB4.5 pushing 110 horsepower while the SD13YS and SD16-3 CE feature a Tier 3 QSB6.7 generating 132 hp and a QSC8.3 generating 160 hp, respectively.
You can check out more specs in Shantui's dozer brochure by clicking here.