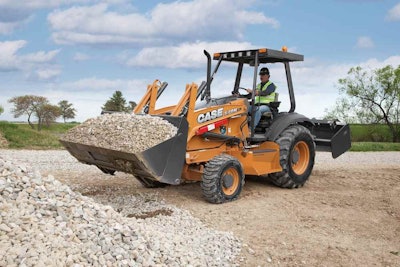 Case's 570N EP tractor loader offers the same level of performance as the company's 570N XT tractor loader, but features a maintenance-free Tier 4 Final engine similar to the EP backhoe model the company launched at The Rental Show in February.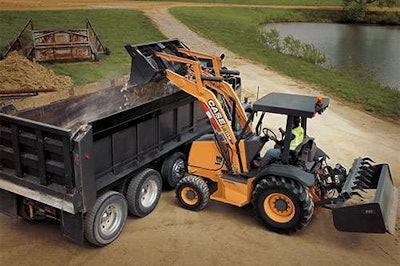 The 74-horsepower 570N EP has Case's particulate matter catalyst that requires no fluids or filter maintenance. The 11,134-pound machine has a three point hitch and 28.5-gpm, 3,000-psi hydraulics to power rear attachments.
Ride Control helps to reduce spillage and provide a smoother ride while roading, and Comfort Steer allows operators to maneuver quickly by going from lock-to-lock with only 1 1/2 turns of the steering wheel.
The machine's cab includes floor-to-ceiling glass and a climate control system to allow comfortable year-round use.
The 570N EP is available with an optional 30-horsepower factory-installed PTO or PTO-ready hydraulic setup. Both options include a high-torque, low-speed axle to improve strength and boost performance.
Other options include hydraulic and mechanical front quick couplers, auxiliary work lights, a fifth-spool auxiliary circuit for the three-point hitch valve and counterweights. Available attachments include angle brooms, box scrapers, buckets and snow blades.