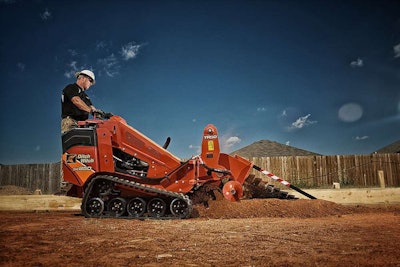 [imagebrowser id=179]
Ditch Witch has taken its SK850 mini skid steer, introduced last October, and paired it with its new multi-position TR50 trencher to make a dedicated footings machine capable of digging up to 16 inches wide and 36 inches deep. Place the trencher in an offset position and the unit can dig footings along side a backer board.
The company introduced the footings machine at last month's The Rental Show, held in New Orleans.
The 3,840-pound operating weight SK850 is powered by a 37-horsepower Tier 4 Final Yanmar diesel, 30 horsepower of which is directed to the attachment when in use. The TR50 has a 50,000-pound chain capable of digging up to 402 feet per minute.
Andrew Schuermann with Ditch Witch sees the markets for the footings machine being split between those putting in footings daily, and more likely to own, and renters, who only need the machine occasionally. "There's a big footings market in the Southeast for both residential and commercial slab construction," he says. Plus a dedicated machine gives it a designed-in toughness for digging through rocky soils, he adds.
A dedicated footings machine also gets rid of the bounce of a straight trencher attachment, Schuermann says, and keeps the overall machine package more compact. "Although you can dig this wide and deep with other machines, this allows you to position the trencher over to the side, up against fences and other obstacles."
In its press release, Ditch Witch makes a direct comparison of the footings machine with a compact excavator, saying it "creates cleaner, more consistent trenchers than and an excavator can, and in less time." The company also says it's more compact, fitting better into cramped jobsites.
An auxiliary control foot pedal on the platform helps operators maintain hydraulic flow to the trencher, freeing their hands to control depth and ground speed. With 43 inches of track on the ground, the machine has the stability to effectively cross trench, says Ditch Witch.
Using the SK850 as a base machine also gives users the benefits of a ride-on 74-square-inch operator's platform unit. The SK850 received several upgrades from its predecessor SK755, including a redesigned control layout and auto throttle, a handy fuel-saving feature on a machine that an operator is continually stepping on and off of during a work day.