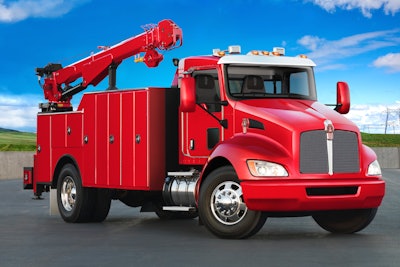 Kenworth announced it will begin offering heavier front axles on its T370 Class 7 work truck.
The truck maker will now offer 18,000-pound and 20,000-pound front axles on the T370 when equipped with the 350-horsepower PACCAR PX-9 engine.
The heavier axles will allow owners and operators to, "put more weight on the front ends in fuel hauling, dump, mixer, utility and crane applications," said Kenworth marketing director Kurt Swihart. "This also allows more payload in a shorter BBC truck package—something our vocational customers will find attractive."
When specced with the heavier axles, the package also includes a heavy duty, cross-brace reinforced front frame assembly, bolted cross members and either 10-3/4-inch frame rails, or 10-5/8-inch frame rails with inserts. Iron hubs, drum brakes, and dual-power steering gears, along with a power steering cooler, are part of the package, according to the Kenworth announcement.