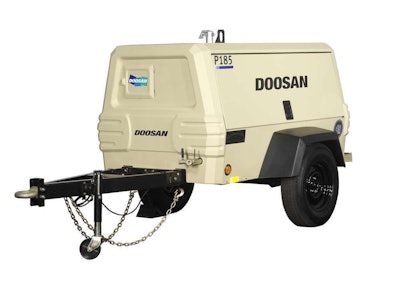 Starting with its P185WDO model, Doosan Portable Power says it will be the only air compressor supplier to also manufacture the engines used in their models.
"This gives us better control over quality and design," Josh Goodman, assistant product marketing manager with Doosan, said at World of Concrete in Las Vegas. Goodman also points out the firm has made engines for more than 50 years for several industries.
Noting that Bobcat, also a brand of Doosan Infracore, made the switch to Doosan engines in 2013 to "great customer reception," Goodman says he expects the same reaction to the engines in the air compressor market. A Tier 4 Final 49-horsepower Doosan D24, 4-cylinder turbo engine will be the first in the lineup, using a diesel oxidation catalyst aftertreatment system and having the capability of starting at minus 13 Fahrenheit unaided.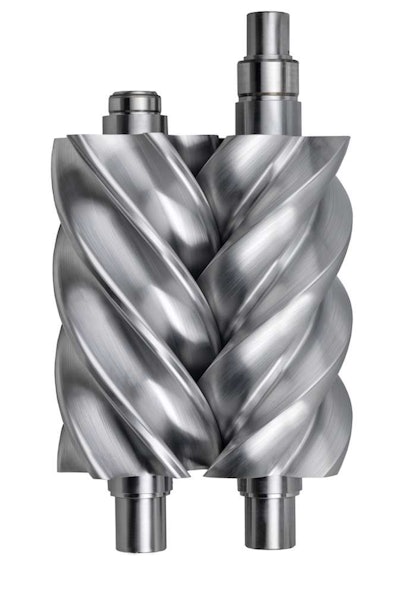 The P185WDO air compressor has a 74-decibel sound level, and delivers 10 hours of runtime at 100 percent load. The most popular model in the Doosan line up, it offers 100 psi at 185 cfm.
In addition to the engine, Doosan announced it would also be using Doosan HR350 airends starting in March, designed and manufactured in its Statesville, North Carolina plant.  Initially the airend will appear in the  company's XHP1170 air compressor.
"This has allowed us to create a more efficient design, and eliminate areas where water can collect," says Russ Warner, global products manager, Doosan. In addition to the HR350, two more airend models will be available by the end of this year. All Doosan airends will be able to be used as aftermarket components for some previous models.