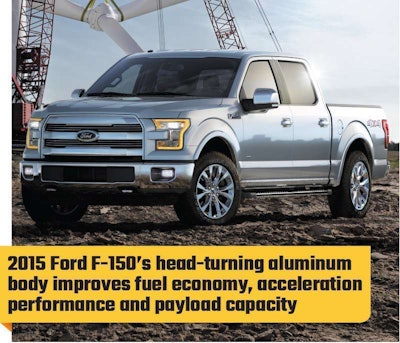 Innovation is the result of conquering a difficult quest using imagination fueled by passion and experience. The 2015 F-150 is a rolling example full of innovation, and its aluminum body is just one example of why it's deserving of one of Equipment World's 2015 Innovation awards. Twenty-some years ago a young automotive body structures engineer by the name of Bruno Barthelemy was part of a team at Ford tasked with building an aluminum-intensive vehicle (AIV) using the Mercury Sable as the test platform.
It was an experiment to reduce the weight of vehicles, thus improving fuel economy and setting the stage to meet ever-increasing Corporate Average Fuel Economy (CAFE) standards. They built a test fleet of 100 Mercury Sable AIVs and put them out in the world to see how they'd fare. The AIV Sables did what was expected, but Ford deemed the cost of making mass-produced, aluminum-bodied, four-cylinder cars for the U.S. market outweighed the benefits at the time. But the challenge of meeting ever-increasing CAFE standards remained as did the challenges of finding ways to make vehicles that met those standards.
"Our [team's] job is to find innovative ways to design parts to reduce the weight and total cost of the part while maintaining or surpassing the strength requirements of the body structure," said Dr. Barthelemy in 2006, by then Ford's global chief engineer, Body Structures. They were also "looking for the perfect application" according to Barthelemy where a stronger, lighter-weight aluminum body could be used so the benefits outweighed the costs to the consumer. That opportunity came in 2008 when Ford Truck needed to start work on the next generation F-150. It was also the same time higher CAFE benchmarks for light-duty trucks was put into play. "The big question for Ford Truck," Barthelemy told us during an interview earlier this year, "was what direction do we go with the next generation F-150: Do we use hybrid electric or diesel or traditional gasoline? A smaller engine or a smaller pickup?" The Body Structures team ultimately focused on creating a new truck using an aluminum body because the lighter weight not only helped improve fuel economy, it also improved acceleration performance and payload capacity – two important aspects for F-150 buyers.
Bodywise, Ford was totally ready: The Body Structures team had decades of experience manufacturing limited-production, high-end luxury cars and SUVs under the Jaguar and Land Rover nameplates here and abroad. "From an investment standpoint, when you create a new vehicle, you also have to create a new assembly plant," says Barthelemy – a point played out later by Ford reportedly investing more $900 million on re-tooling the Dearborn F-150 plant and related stamping and on-site aluminum support operations. "But from a technology standpoint the engineering team was very confident in our ability to build the new truck," says Barthelemy who was also the supervisor on the mid-90's Super Duty body re-design.
Doubts as to an aluminum body F-150 being the right move circulated inside Ford's upper management and key investors. So the engineering teams got creative and did something unheard of: Barthelemy had them hand-build six X-0s (prototypes built before any developmental engineering plans were drafted or ok'd) using 2008 F-150s as the platform to prove to management aluminum is better than steel – and that this truck was, indeed, the perfect vehicle for the application. Then they brought Ford's decision makers to their secret testing ground to drive the aluminum-bodied F-150s. "When we realized the aluminum F-150 gained 750 pounds of additional payload capacity, and when we proved from a durability standpoint with the first wave X-0 prototypes that this truck surpassed the 2008 model, everyone on our Body Structures team was smiling," recalls Barthelemy. But he says the biggest smiles came when key management drove the X-0 F-150s the first time in early 2010: "They were dumbfounded by the performance and quality of the job aluminum could do," says Barthelemy.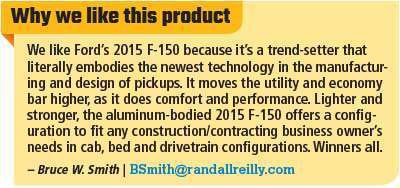 "They said, 'Oh, gosh. Unbelievable. This is a level of quality we've never seen in a truck." That was all it took to have the next-generation F-150 aluminum body green-lighted. Manufacturing innovations followed, including using four different types of aluminum and new manufacturing processes to vary the thickness and strength of body support structures according to location inside the truck. The end result is a 2015 F-150 aluminum body that weighs 45 percent less than the equivalent steel body and stronger in all aspects. Recycling scrap, the biggest cost concern from the beginning, was addressed and conquered as well: Ford's innovative, state-of-the-art, in-house recycling program recoups the cost of almost 90 percent of the 310 pounds of aluminum scrap generated building each truck. Meanwhile, Ford Truck's powertrain team designed innovative, smaller, lighter, more powerful pickup engines we know today as the EcoBoost V-6s to take advantage of the lighter-weight body. Roll all of those innovations into one and you have the 2015 F-150 leading the way for a new generation of lighter, faster, more efficient pickups industry wide.