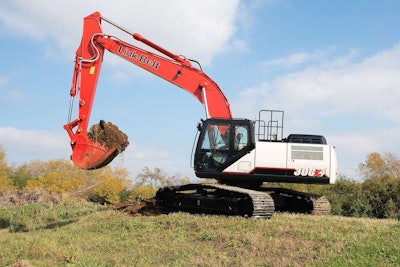 [imagebrowser id=146]
Launched to dealers Wednesday evening at an event held at the Kentucky Horse Park in Lexington, the X4 series of excavators from Link-Belt Excavators delivers improvements across the board compared to the company's previous excavators.
Currently available in four models—the 250X4, 250X4LF, 300X4 and 350X4—the machines achieve Tier 4 final compliance through an emissions solution that does not require the use of a DPF filter. The electronically controlled Isuzu engine also provides up to a 12-percent increase in fuel efficiency over previous models.
However, improved fuel efficiency is just one of the benefits the X4 series delivers, says Chris Wise, brand manager for LBX. "We've always hung our hat on fuel efficiency," he says. "But customers want more productivity, as well, so we've provided that through increased arm and bucket digging power, improved cycle times and better lift capacity."
New hydraulics system
Wise says many of the performance enhancements are realized through LBX's brand new hydraulics, a proprietary system to their parent company, Sumitomo Construction Machinery. "Hydraulics are the lifeblood of the machine," he says. "We now have a dedicated control valve, and the Kawasaki pumps are electronically controlled to reduce pressure loss. The electronic control allows the system to reach maximum pump flow, something that can't be accomplished with pumps that are not controlled electronically."
Additionally, the previous system was designed on LBX's 210 size excavator, and then scaled up to fit larger models. The current system is designed around the 350 size machine, which delivers a more robust system when scaled down to the smaller machines.
Features and options
The X4 series includes a standard rear camera on all models, and each camera has a full-time camera display. LBX's Wide Angle View Enhancement System, or WAVES, is available as an option. The WAVES camera, which was introduced at ConExpo-Con/Agg in March and is a recipient of a Good Design award in Japan, combines the side and rear view cameras into a single 270-degree image, eliminating operator blind spots.
The cab features a new automotive-style seat with a 65-degree tilt angle, dual cab lights with an LED option and the largest available monitor in the industry, which is designed in landscape instead of portrait mode for better viewing. A Bluetooth option that will allow operators to not only listen to music but also safely send and receive calls will be available in June.
What's next
LBX plans to release the smaller machines in the X4 series in the 2nd quarter of 2015, including the 130X4, 160X4, 210X4 and 210X4LF. A larger model, the 470X4, is expected to launch in the 3rd quarter of 2015.