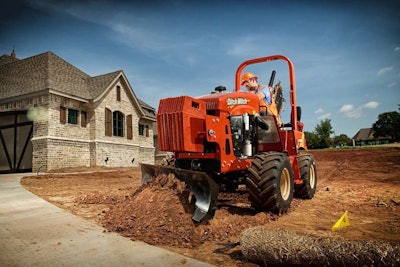 [imagebrowser id=136]
Ditch Witch has added a 49-horsepower Tier 4 Deutz diesel engine to its RT45 ride-on trencher, delivering a significant increase in power over the previous model's engine.
Designed to boost productivity while reducing maintenance the engine powers a range of attachments including trenchers, backhoes, earth saws, vibratory plows, microtrenchers and combination trencher/plows. To boost efficiency, the RT45 features a direct-coupled, high torque digging chain motor.
Popular with rental companies for its easy-to-use features, the RT45 has color-coded controls for speed, direction and attachments that are easy for any operator to master, even novice users. A simple pedal controls the infinitely variable ground drive forward and reverse, and a responsive joystick controls the 64-inch-wide backfill blade. For comfort, the trencher has a large, ergonomic operator's station with a one-piece molded instrument console that provides more legroom and enhances visibility. The heavy-duty engine mount aids in high-vibration applications.
To address safety, the RT45 has an advanced operator presence system that shuts off the engine if the operator leaves the seat, and the exhaust system is mounted under a hood with horizontal exhaust pipe, ensuring noise and hot air is diverted away from the operator.
Service points are accessible from one side of the unit, and an easy-to maintain advanced air filtration system is standard.