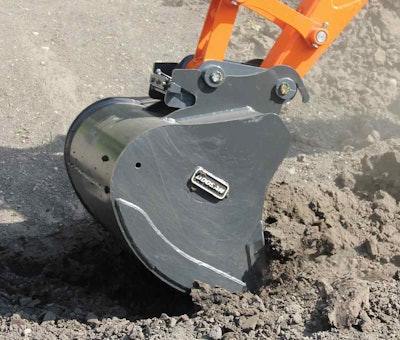 Change excavator attachments without decreasing breakout force with Doosan's wedge lock coupler designed for use with the company's 6- to 53-metric-ton excavators.
The wedge lock coupler allows for the use of multiple attachments, such as heavy-duty digging buckets, trenching buckets and high-capacity bucket models. The coupler also pairs with Doosan's excavator clamp attachments.
To boost jobsite safety, the wedge lock coupler features a swing ear design and a bolt retainer safety plate that helps keep the attachments from falling. The coupler has a limited increase in tip radius over pin-on mounting.
The wedge lock coupler manual mounting system fits 13 crawler-excavator models:
DX63-3
DX85R-3
DX10LC-3
DX140LCR-3
DX180LC-3
DX225LC-3
DX235LCR
DX255LC-3
DX300LC-3
DX350LC-3
DX420LC-3
DX490LC-3
DX530LC-3