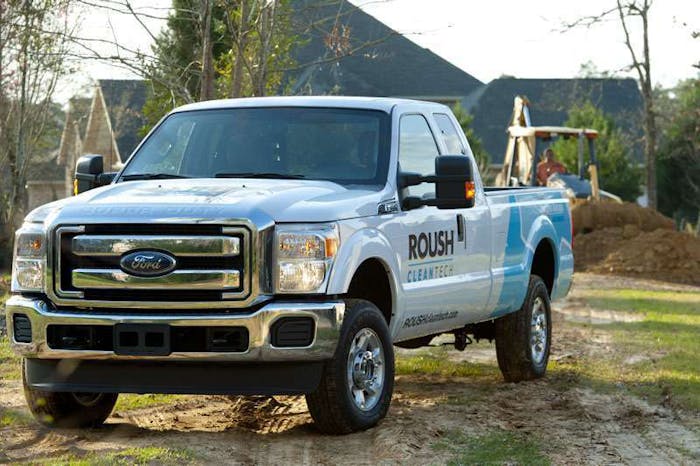 [imagebrowser id=70]
It's an odd feeling when you turn the ignition key and nothing happens. At first you think something is wrong. You wait. Silence. A couple of seconds pass and you hear a faint click. Then the sound of an electric fuel pump comes and goes. Then all is quiet again. You wait. Suddenly the starter engages and the engine purrs to life.
Those first seconds sitting behind the wheel of a propane-powered 2014 F-250 would be the only hint there's something different from this truck than a normal 6.2-liter gas-powered Super Duty.
The Ford's start-up sequence is normal. It takes about 10 seconds when the engine is cold to get the fuel lines and rails pressurized, and up to 30 seconds after it's been run for a while because the propane is under higher operating temps.
Other than the fuel cap being replaced by a threaded filler, those two items are really the only immediate clues this truck is a mono-fuel that runs off propane.
Of course the longbed XLT I'm driving is plastered with big Roush CleanTech logos on the doors and "propane autogas-powered" graphics on the sides, to remind me the big Ford was set up to do its part helping make its place in the work world greener—both environmentally and economically.
The price of propane
Being "green" is a good business philosophy. But those who shell out $11,450 for the Roush CleanTech conversion option on an F-250 are looking at saving money, not necessarily making environmentalists cheer.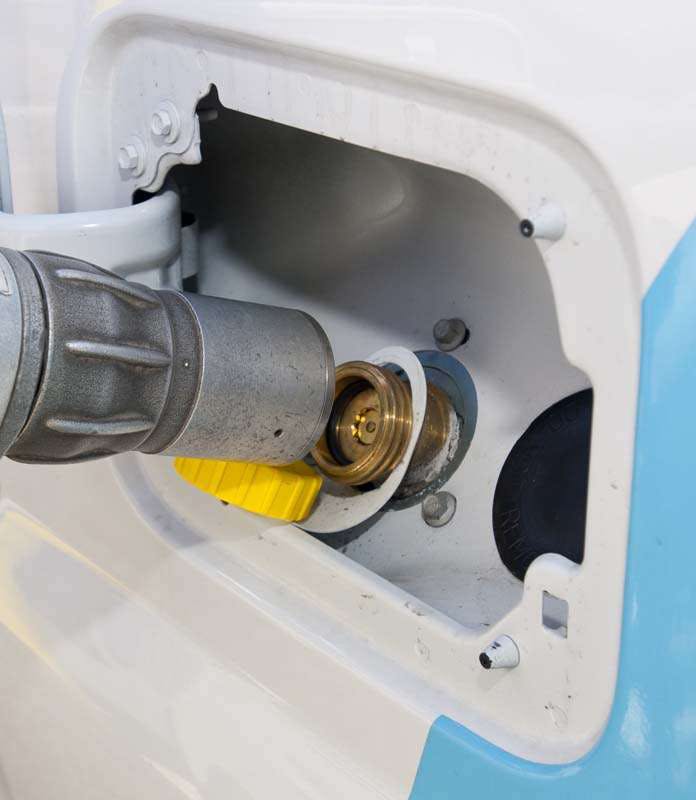 Propane power does just that when compared to gas or diesel pickup engine options.
Even though propane produces about 25 percent less energy per gallon than the gasoline we get at the pump today, its cost per gallon, reduced engine maintenance and extended oil-drain benefits more than pay for the conversion.
Propane was selling for around $1.85 per gallon at the contractor level when I fueled up this test truck at Blossman Gas in Gulfport, Mississippi. The sign across the street at a big discount gas chain displayed $3.27 for unleaded and $3.91 for diesel.
That savings of almost a buck-fifty could jump to a realistic saving of more than $2 per gallon if the $0.50 per gallon tax credit for propane autogas is approved again this year. Figure that kind of savings in to your annual fuel costs and it's easy to see the ROI on the conversion comes fairly quickly.
So how well does a propane-powered 6.2-liter F-250 run? Just like a normal gas-powered truck: There're no noticeable differences once the engine cranks up.
By the numbers
I took the truck from my office in Diamondhead, Mississippi, to Gulfport Dragway in nearby Gulfport, Mississippi, to get the performance numbers.
Our computerized Stalker Radar system showed the 4×4 SuperCab, with its 4.30 electronic-locking rear differential, ticked off 8.9 seconds to hit 60 mph while eclipsing the quarter-mile with a 16.4 second time at 86.4 mph.
That's a second faster than the 2013 F-250 4×4 6.2-liter gas I tested last year that was running 3.73 gears, and nearly identical in performance to a 2013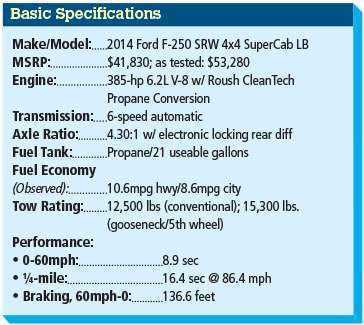 diesel model 4×4 also running 3.73s.
Fuel economy was as expected for such a low-geared 3/4-ton 4×4: 10.6 mpg at 70 mph (2,100 rpm); 8.6 mpg city. Combined fuel economy came out to 10 mpg with about a 50/50 mix of interstate and stop-go city driving.
By my calculations the driving range with this 4×4's under-bed 21-gallon (useable) propane tank, the smallest Roush offers, is right around 200 miles.
On the road
When it comes to passenger comfort and cargo/towing capability, I give this SuperCab mixed reviews.
The SuperCab's interior can seat six if you flip up the front split-bench's center armrest, and rear legroom is adequate for adults on short trips. The 60/40 rear split-bench is easy to flip up/down and the floor is flat so you can use it all.
There's no doubt this truck can haul a load with ease. It has the optional 10,000-pound GVWR package combined with the Camper Package, so the heavier leaf springs give it a comfortable, stable ride when loaded down.
When it's running empty, wear a kidney belt. The ride is a full-on teeth rattler. You learn early on to avoid every pothole, bump or railroad crossing if at all possible.
But that's expected for a work truck spec'd out like this one.
For the commercial customer who plans on using its cargo-carrying capabilities year in and year out for hundred of thousands of miles, like the buyer this F-250 is headed to, a Roush CleanTech propane F-250 4X4 should be a good choice.
Just don't freak out the first couple times you turn the key to start it up. Silence is green at work.