What does a tool manufacturer do when they already have a great lineup of tools? In Hilti's case, the new strategy is to make them easier to manage.
Accounting for hundreds of portable power tools on a big commercial jobsite can be a contractor's nightmare. At the World of Concrete today Hilti announced an initiative, Hilti Tools on Demand, that solves these logistical problems and helps control costs  by giving you seasonal or project-specific access to the tools you need.
The program gives you access to all the Hilti tools you need for a period of three to 24 months, when and only when you need them. Hilti takes care of the delivery, return, maintenance, replacement and liability for theft, all for a single monthly price.
For tools you're likely to use throughout the year, Hilti offers its Tool Fleet Management Service that can be supplemented with Tools on Demand when needed.
In these two programs Hilti sales associates will work with you to review your current tool inventory, usage and needs and make recommendations based on past history and future requirements.
What does this do for you? You don't have to store a big inventory of tools, you don't have to write multiple purchase orders and estimates, it improves cash flow, frees up capital and eliminates the hassle of selling off the used tools once the job is done. You can spread your tool costs over several months or years depending on which option works best for your company.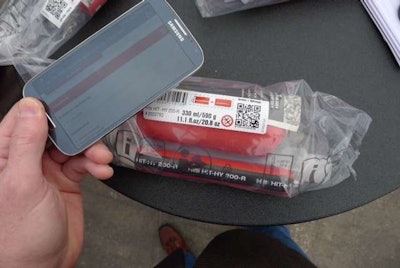 Hilti also recently launched a new product support website that makes extensive use of QR code technology.
So, for example, if you're standing at the jobsite and somebody suddenly asks if these are the right anchors for the job, you can quickly scan the QR code on the product package using a smart phone and get instant information on the product, installations and applications and any related information. If you're still not sure, click the "call me" button on the site and a real, live Hilti expert will call you back within minutes to answer your questions.
Hilti also plans to add social media ratings and reviews as well as guided product selection to the website.