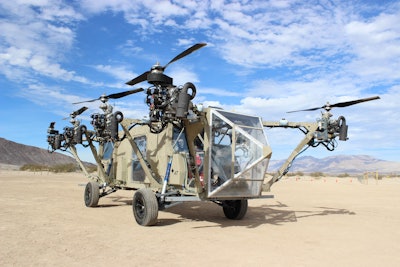 It sounds a little too good to be true, but the vehicle you're looking at is a real life Transformer with the ability to switch between use as an off road truck, helicopter and drone.
Designed by aerospace firm Advanced Tactics, the AT Black Knight Transformer is designed to act as a drone in evacuation combat scenarios, allowing military to use the vehicle as an unmanned ambulance. But it's also meant to be driven as a cargo truck for resupply missions—until those missions call for it to fly. At that point it can initiate a vertical takeoff.
Advanced Tactics gives the example of a situation where two soldiers are in need of evac and one of them is seriously wounded. A Black Knight is automatically launched 20 miles away and when it lands on the front lines, it stows its engines and the soldiers climb inside. Because there is heavy fire, they cannot fly to safety, so they instead use the vehicle's off-roading capabilities to drive to safety.
In terms of size, the AT Black Knight Transformer has the interior volume of a Blackhawk helicopter. It can carry up to eight passengers or 1,600 pounds. Advanced Tactics says it is also working on a smaller two-man vehicle called the AT Panther.
On land, the Black Knight can reach speeds of up to 70 miles per hour and a test drive was recently completed. In the air the vehicle is designed to reach speeds up to 130 knots and the first test flight is scheduled for later this year.
Click the photos below to view the gallery and larger versions.