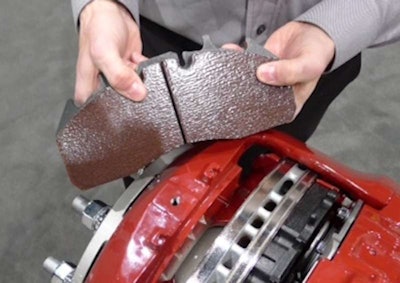 Mack Trucks introduced an air disc brake option for it's vocational trucks today at the World of Concrete in Las Vegas.
Air brakes offer superior stopping power, better resistance to fade and less maintenance than than conventional S-cam designs.
Mack's design uses two pistons to drive the pad against the rotor, which provide more balanced pressure and even wear compared to a single piston. They also have a flat rotor, rather than hat shaped rotors to prevent heat distortion in heavy braking which can lead to a shortened service life.
Changing pads on the new Mack air disc brakes is almost too easy. Simply unscrew a cover retaining bolt at the top of the brake assembly, pull off the cover and pull out the pads.
Mack's design is tuned specifically to the needs of vocational customers to help boost uptime and lower overall lifecycle costs said Stu Russoli, Mack vocational marketing product manager.
Simple as one-two-three. To change the pads on Mack's new air disc brakes:
1. Remove the cover retaining bolt
2. Pull off the cover
3. Pull out the pads