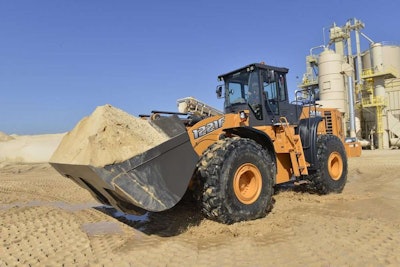 Today, Case added to the F Series wheel loader lineup with the introduction of the 1221F, the largest model the company offers.
With an 11.9-liter Tier 4 Interim engine that delivers up to 355 horsepower, the loader is designed for heavy earthmoving and loading applications, particularly in aggregate and mining operations.
The 1221F has a 66,800-pound operating weight and offers a range of buckets from 6.3 to 7.8 cubic yards, and is available in standard Z-bar and extended reach configurations. Features include four programmable power modes that save fuel and increase available power.
A dual-mode shutdown feature maximizes fuel economy and monitors engine components. Standard four-speed transmission has manual kick-down for maximum traction and bucket penetration. An available five-speed transmission has a lockup torque converter, open-differential axles and advanced programming for additional fuel savings.
A large cab with full glass door offers an unobstructed view to both edges of the bucket and a sloping hood that provides clear vision to the rear. Additional cab features include a 73-decibel rating, dual filtration system for cleaner air, ergonomic controls and rearview wide-angle camera.
A new coupler system pulls the bucket closer to the machine for enhanced breakout force, and the SmartFit bucket tooth system provides stronger, more durable teeth and adapters, as well as hammerless reusable locking pins that improve digging performance. Case ProCare is standard on the 1221F.