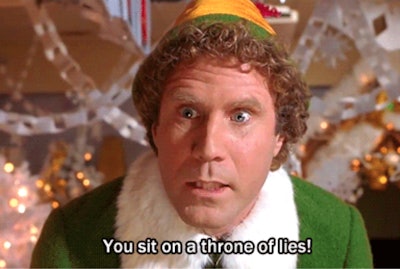 It's not uncommon for construction and road projects to be halted due to environmental concerns.
But elves? That's a new one on us.
In Iceland, environmentalists have forged a partnership with elf advocates to convince the Icelandic Road and Coastal Commission to abandon a highway construction project that would build a route from the Alftanes peninsula to the town of Gardabaer, according to a report from the Associated Press.
The elf advocates say this area is "particularly important because it contains an elf church."
In Iceland the elves are called the "Huldufolk" or "hidden folk." And Icelandic belief in elves is not uncommon. The AP cites a survey of 1,000 people there where 62 percent say it's possible that elves exist.
And projects are halted so often due to the concern of disturbing elf habitats that the road and coastal administration has a stock media response for elf inquiries: "issues have been settled by delaying the construction project at a certain point while the elves living there have supposedly moved on."
Environmentalist Snaer Magnason says his main concern is that the highway project will cut the surrounding lava field in two as well as destroy nesting sites. However, he understands the concerns of his elf advocate friends. "I got married in a church with a god just as invisible as the elves, so what might seem irrational is actually quite common," he said.
Some elf advocates, rather than fighting for the rights of a hidden people the believe truly exits, simply see them as important folklore unique to the country.
The project has been halted until the Supreme Court of Iceland makes a decision on whether the project should proceed.