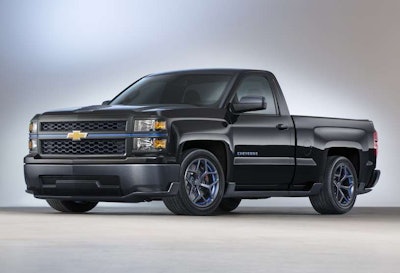 The only thing unfortunate about this post is that you won't be able to go out and buy the truck it describes after you're finished reading it. Everything else is very good.
For the big SEMA show going on this week in Las Vegas, Chevrolet has built a dream of a sport truck in the Silverado Cheyenne concept. Chevy took a 2014 Silverado regular cab, cut its curb weight and crammed in a much more powerful engine for one heck of a hot rod truck.
The Cheyenne boasts the new EcoTec3 6.2-liter V-8—which Chevy doesn't offer in production Silverado regular cab models—giving it 420 horsepower and 460 lb.-ft. of torque. Chevy added a Borla performance exhaust power to give that power some growl.
Chevy stripped the Silverado regular cab's bumpers, tailgate and inner cargo box and replaced them with carbon fiber versions. The truck also features Camaro Z/28 Brembo carbon ceramic brakes which cut even more weight thanks to being significantly lighter than normal steel rotors. In the end, Chevy shaved 200 pounds off the production Silverado regular cab bringing it down to 4,300 pounds.
The combination of those carbon ceramic brakes with the Cheyenne's lowered ride height and rear stabilizer bar result in enhanced handling and braking capability. Chevy accentuates the ride with charcoal-painted 19-inch Camaro Z/28 aluminum wheels and high-performance tires.
If this truck came to production (please, Chevy?) it would be a highly attractive alternative to Ford's F-150 Tremor sport truck. The Cheyenne concept boasts 55 more horsepower and is 780 pounds lighter than the 5,080-pound Tremor.