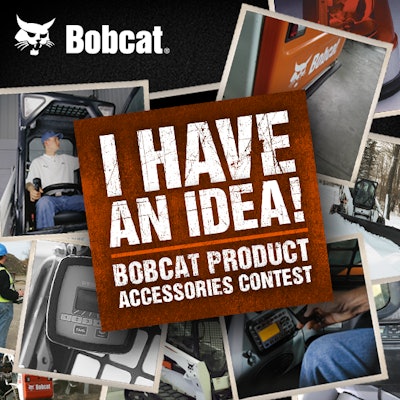 Got a great idea for something that would make that Bobcat cab just a little more comfortable? Or maybe you've thought up the next great Bobcat attachment.
Whatever it is, Bobcat wants to hear about it. And if they like your idea you could win one of several prizes and see your idea go into production.
Launched today, the "I Have an Idea" contest asks that anyone with an idea like the Bobcat Facebook page and then fill out the contest entry form.
Idea entries can be specific to any of the Bobcat lines of equipment and Bobcat says the entries will be judged on creativity, quality, completeness and originality.
The contest will run for six weeks and weekly winners will be announced who could win an air compressor, power generator, an entertainment package including a 42" LCD TV, area rug, beer stein or a power washer.
The contest ends on November 5, 2013 and is limited to those living in the continental U.S. and Canada. You can enter and see a complete list of rules by clicking here.