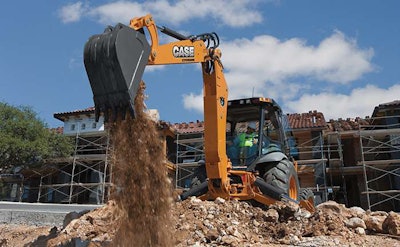 There's a reason 14-foot backhoes comprise the bulk of backhoe sales. That size is well-suited to most of the tasks that backhoes perform. And as OEMs find ways to further improve the performance of 14-foot machines, the advantages of bigger diggers become less obvious.
Andy Capps, Volvo backhoe product manager for North America, says advances in hydraulics and electronics have been great equalizers. "Flow-sharing valves, variable-displacement piston pumps, and load-sensing electronics have enabled improvements so that the higher horsepower of larger machines is no longer critical to overall performance."
JCB's six new 3CX Super and 4CX Super models illustrate the similarities among machines of various sizes. Hydraulic flow (44 gpm) and relief valve pressure (3,650 psi) are the same for all of the models whether they're in the 14-, 15-, or 17-foot class. While there are differences in digging and breakout forces, lift capacity is the same for all models except the 3CX Super 14-foot.
Benefits of big
But clearly some customers prefer machines above the 14-foot class. Financed sales of 15-foot and larger machines as a percent of total sales doubled between 2006 and 2012 (see "Sales Mix" sidebar). Increased dig depth and reach are the obvious reasons to move up in size. Beyond that, what's the appeal?
"Lifting and craning capabilities increase on our larger machines," says Kevin Hershberger, senior project engineer, SSL/MTL/CTL Solutions at Caterpillar. "This allows placement of heavier manholes, pipe, street plates, jersey barriers, and trench boxes."
The higher lift capacity coupled with high-capacity hydraulics enables bigger backhoes to run bigger attachments. Cat's17-foot 450F backhoe can handle their H110E hammer with its working weight of up to 2,381 pounds. Those advantages carry over to other high-demand attachments such as augers, flail mowers, and compaction tools.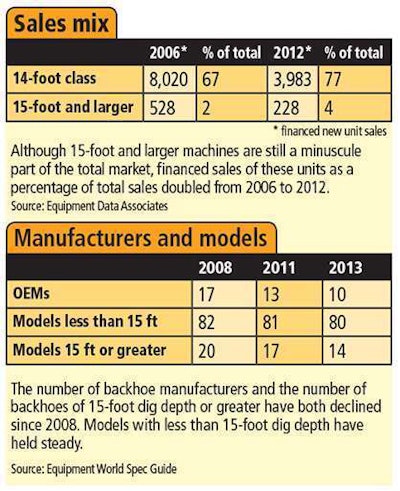 How many customers run such attachments? "It's hard to quantify," says Jim Blower, product sales manager for JCB. "Some attachments go out with the backhoe when it's purchased and others are added later, so there's no good way to gather the numbers. I'd say it's 15 to 20 percent."
Louann Hausner, backhoe loader marketing manager at John Deere, says that auxiliary hydraulics further enhance the versatility of a backhoe. "Customers maximize their investment when one machine performs as a loader, an excavator, and a tool carrier."
Contractors who frequently transport machines on the road want to reduce the number of machines going to and from jobsites. Those users are looking for maximum dig depth and maximum loader capacity in one easy-to-road machine.
Some contractors don't want to have to choose between 14- and 15-foot machines. They want the best of both worlds, the maneuverability and lower initial cost of a 14-foot machine and the reach and dig depth of a 15-footer. New Holland addresses that need by offering the B95C LR, which has the front of a 14-foot backhoe and the back of a 15-foot model.
"This provides many of the advantages of a 15-foot machine but at a lower cost, which makes this model especially appealing to municipalities," says Paul Wade, brand marketing manager. Deere takes a similar approach by offering extended dipper sticks on 14-foot models.
Capps notes that larger machines often have larger-capacity cooling systems that help control hydraulic oil temperature in applications where there's high restriction with a lot of flow over the relief valve and in high-RPM applications, such as flail mowers. "If you're going to use a 14-foot machine for these types of tasks, you should seriously consider an upgraded cooling package," Capps says.
Katie Pullen, brand marketing manager, Case Construction Equipment, says larger machines have bigger, more comfortable cabs and a greater range of options. These benefits can have as much positive impact on productivity as a larger bucket or longer reach.
On the horizon
JCB's Blower notes that Tier 4 Final is already in place for engines of less than 75 horsepower and that it arrives for bigger engines in 2015. "There will have to be a price increase to cover that and customers may look hard at smaller machines," he says. "Manufacturers will be looking to get 110-horsepower performance out of 74 horsepower."
He says the back part of the machine only requires 65 horsepower, so it's conceivable that smaller machines will provide adequate performance. The key will be further development of hydraulic and electronic systems. "We're moving away from the place where horsepower is king," Blower says. "Customers will continue to widen their definition of performance."
Hershberger says that "smart buyers factor in system considerations such as hydraulic performance and advanced machine systems. These may deliver more performance at a lower horsepower rating compared to a competitive unit with a higher power rating."