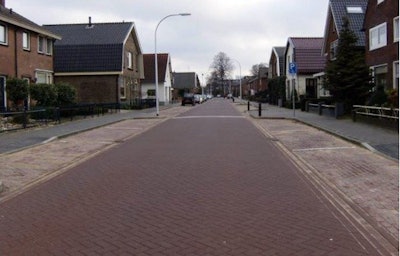 For a large number of Americans, driving is an absolute necessity. Unfortunately it's one of the main contributors to air pollution due to the nitrogen oxides produced by the vehicles we drive.
But what if the streets we drive on leveled the playing field? What if our roads literally ate smog?
According to one group of Dutch scientists, coating roads with titanium oxide makes that very thing possible, the LA Times reports.
Researchers at Eindhoven University of Technology in the Netherlands paved a city block with paving blocks coated with titanium oxide and used an adjacent city block as a control.
They took measurements for a year and found that street paved with coated blocks reduced air pollution by up to 45 percent in ideal weather conditions. Over the course of a a typical day, the smog-eating blocks reduced smog by 19 percent.
Titanium oxide's smog-eating properties have been known about for some time, but this is the first time an application that could easily be implemented in roadways has been developed.
And this isn't the first time a pavement coating has been implemented to affect environmental change. Coatings developed by researchers at the University of California Berkley reflect between 30 and 50 percent of the energy from sunlight and reduce surface temperatures up to 40 percent.