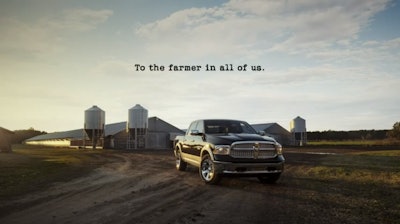 We here in the construction industry appreciate hard work, so it was nice to see a Super Bowl ad that did such a nice job honoring just that. The ad below was by far our favorite Super Bowl ad this year.
And beyond honoring hard work, Chrysler's Ram Trucks ad 'God made a farmer' has generated quite the buzz since it aired during the Baltimore Ravens' 34-31 win over the San Francisco 49ers Sunday night.
Narrated by radio legend Paul Harvey's tribute to farmers, several outlets have called it the best ad to air. Slate reports that it was actually based on Farms.com's YouTube video from 2011 and that the site is and Chrysler are using the ad to raise money for the Future Farmers of America.
To make the touching tribute, Chrysler's Ram brand commissioned 10 well-known photographers including National Geographic's William Albert Allard and renowned documentary photographer Kurt Markus to gather the striking images in the ad, Mlive.com reports.
Check out the ad below and let us know what you think.
[youtube AMpZ0TGjbWE nolink]