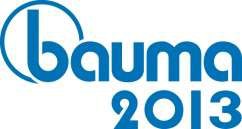 Editor's Note: Click here to read John's Day 1 impressions from Pre-Bauma 2013.
Winds are up but so is the temperature (a little) in Munich for the pre-Bauma media dialogue and our quick preview of some of the big April show debuts. Let's get to it.
Vogele says it will present eleven world firsts in the paver field highlighted by extended screeds which will reach the American market. These are the AB500 and AB600 screeds. They feature Vogele's infinitely variable single-tube telescoping system, adjustable hydraulic side plates and integrated hydraulic crown adjustment. The pavers will be designated the "dash 3" generation, and the company calls them "innovative, eco-friendly and economical." Some highlights: when the paver is stopped all hydraulic pumps used for traction, conveyors and augers and compacting systems are automatically disengaged; the tamper is driven by a variable displacement pump that delivers exactly the amount of oil needed; a variable-speed fan automatically adjusts to engine load, ambient temperature and oil and water temperature; a "pavedockassistant" system that connects the paver operator and the asphalt feed vehicle.
It can be disconcerting to see a construction worker approach a concrete wall with a chain saw in his hand. Stihl is previewing a concrete cutter here that is especially effective on for wet cutting concrete walls, natural stone or pipes. Angles and corners are a speciality. The company says the fact that it alone makes its own concrete cutting chains in this field allows it to integrate all aspects of manufacturing from design forward into a single unit, and the GS461 is the new model that will be here in April. Stihl will also show a new cut-off saw with electronic fuel injection This is the TS480i that follows the innovative TS500i. The two-stroke saw uses an injection system to automatically ensure high-lugging power and "electronic characteristic mapping" to ensure best fuel consumption and emissions. The company will also exhibit  a new high-performance cordless chain saw, the MSA 200 C-BQ which it informally calls "a real chain saw." It features 30 percent more cutting power that comes from improved battery technology (it uses the 36 V Stihl AP 180 lithium ion battery), 15 percent more motor speed, 20 percent higher torque and it is labelled as a "quiet" machine.
New Holland will be at bauma in April  (in a booth of their own not with Case) and will feature new equipment for the international market including a short radius excavator that may see North America. There will be three models (the E230C SR, E260 SR and E160C Blade Runner) with Tier 4 Interim technology. The company says there is better fuel use and eight percent better swing torque. It is, says New Holland, "big performance in a compact package." The Blade Runner catches the eye, with its 6-way dozing capability and, of course, it can dig and grade. There is a standard 6-way dozer blade and foldable, lockable, extending blade wings — it also has power,angle and tilt capabilities and can be angled 25 degrees left and right and tilt for slopes, culverts and ditches. New Holland will also exhibit new skid steers and compact track loaders and an upgraded motor grader with low-profile cab.
Snorkel is launching three new global products at bauma in April. The aerial lift maker will introduce a new compact rough terrain scissor lift for working in tight spaces. It will reach 39  feet up, but is only 700 inches wide. The company says the extra height came in response to customer requests. It has an articulated rear axle, beter ground clearance and 30 perennt gradability. It comes witth automatic, self-leveling stabilizers and an extension deck for additional outreach. We will see it launch in America later this year. Snorkel will also debut a new self-propelled (battery) low-level, lightweight access platform witth 10 foot maximum platform height. Snorkel has also enhanced its popular M1230E self-propelled mast witth a deck extension. It can be driven through doors and be  carried in passenger elevators but still lift two people with tools.
I'm continuiing to confirm  my impression from yesterday that the engine makers will be in a pitched battle at the big Bauma show in April. An example: Scania doesn't sell a lot of engines in the U.S. but it has its sights set on making a better impression when the U.S. market leaves the door open a crack. The company will have 9-, 13-, and 16-liter engines at Bauma in April.
Doosan will of course be sharing its big outdoor booth at Bauma in April, one that includes a big demonstration area. Doosan will exhibit its 490 and 530 excavators. Bobcat willl show its 500 platform  skid steers (five of  them) and a track loader model. Doosan Portaable Power will show two new generators and two new ccompressors.
LiuGong will be a BIG presence at bauma in April. The company will bring three new excavators to its 3,000 square meters of outdoor exhibition space including the 45 metric ton 945 E. This is a much larger version of the 922 E  launched at Intermat in Paris last spring. Two other new models that expand the 922 will be here, the 930 E and the 925 E. The hefty 945 E is Liu Gong's largest excavator. The company will also demonstrate its skid steers (although the emphasis here will be largely on the European models especially the 375 B and the 385 B). LiuGong will have a full range of products including the a motor grader and four rollers.
I literally did a double take on this one. Not like OMG, but nonetheless something that at first sight seems rather ordinary and predictable but in fact has some very cool characteristics. Hinowa is displaying its Minitransportrer (water-cooled Kubota engine) at Bauma in April, and the Italian company has taken a basic functional, predictable ho-hum product and given it some, well, flair. It's a motorized bucket and scoop. It has a zero-turn radius so its something you use on job sites (especially interior jobs or really tight spots), to load and dispose/clear junk, but it also feels like a very small wheel loader. There are three models: a basic one you load yourself, a self-loader (using a front blade/scoop) and a self-loader with an extra lift capacity of six feet so you can use it to load trucks. It's a one-metric-ton tracked vehicle, but the tracks can be spread, together or alone, with hydraulic pistons in the undercarriage so you can create a wider, safer footprint for work. A relatively long wheelbase adds to its job site stability and lift capacity. The company touts its easy-access maintain door, and also concedes that the rental market is its probable U.S. destination.
Finally,Manitou will hit Bauma running in April, highlighting its display with an upgrade to the three-in-one Rotative Telescopic Handler. As the company says "It's a crane, it's a telehandler, it's a platform." The machine now comes with a Mercedes engine and an attachments recognition system to make using and changing attachments easier. It now also comes with an automatic stabilization pattern that reads the terrain and automatically creates the most stable base in setting the stabilizers. There's a new color display monitor and a see-through roof that lets operators always see the boom as they work. The company will also have its rough terrain forklift in its latest iteration at its booth. That booth will also feature Gehl and Mustang products.