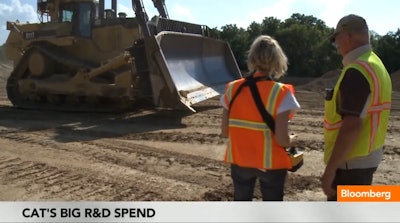 For the first time in the company's history, Caterpillar allowed cameras inside its proving grounds for a Bloomberg TV piece on how the company spends its research and development dollars.
In the video, we get a good look at the D11, Cat's largest dozer, being driven remotely. Some very interesting figures are explained as well.
According to the report, 70 percent of Cat's sales in 2011 came from outside the U.S. And because Cat's revenues nearly doubled in Asia and Latin America in 2011, those markets are becoming the driving force behind how the company spends its R&D dollars.
And just how much are they spending? Bloomberg reports $8 million each working day. That's a lot of cash and as the report notes, this is a big investment the company is making, and a big bet, in a recovery for the industry.
There's even a look inside the company's virtual reality prototyping room, called "The Cave" where they can take equipment that hasn't even been built yet for a spin. It's a move that saves Cat hundreds of thousands of research dollars.