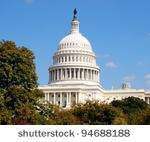 It could be a really interesting week in the surface transportation reauthorization debate in the Congressional conference committee.
If you step way, way back from it, it's possible to argue that the basics of an agreement are there on the one hand for a clean, sensible, no frills, hard-working bill — and a series of roadblocks, both huge and small are there on the other hand. There may even be a clean line in the sand.
So an optimist (Who, me? Perish the thought.) might say that one way to look at this stagnant, nose-holding process is that at least it may come to an all or nothing vote. The optimist might say that having a jumbled mix of some acceptable and some unacceptable propositions might be a far worse place to be. But for that to work, both sides are going to have to see it that way and concede some of their entrenched positions on the non-essentials, put them off for another day and say yes to a basic bill to get this industry moving. There will be committee members that argue over what is essential of course. And they'll arguing that point next year.
So the optimist says that this week pragmatism (you know, creating jobs, letting contracts for vital infrastructure work, stuff like that) might just have a chance to win out over self-serving and sometimes just plain bumbling politics.
Ah, sweet optimism.