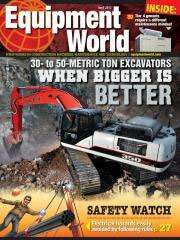 How do you measure success with your advertising program? Would you like to see how our recipients are responding to your message?
In our July issue Equipment World will conduct an ad-read study to help you and your company to evaluate how your advertising efforts are working. We will ask questions such as:
• Do you recall seeing this ad?
• Do you recall reading this ad?
• Does this ad clearly communicate the benefits for the product or service featured?
• Do you plan to purchase this type of product or service in the next 3/6/12 months?
• What action did you take, if any, as a result of seeing this ad?
The ad-read study is intended to help you learn more about how your ad message is being received, and provide feedback to you from our recipients' responses. Only the advertisers who invest in this July issue will receive the results from this study.
The survey will be delivered to recipients at the end of July with a high-res image of all half page ads and larger. The results will be available for advertisers on September 13th.
All advertisers who wish to be included in the study should contact their Equipment World account manager today to reserve their space in the July issue.
Space Reservations Due: June 11, 2012
Advertising Materials Due: June 12, 2012