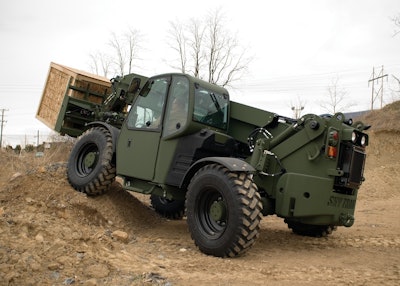 JLG Industries has been awarded a $40 million contract to build 280 extendable boom forklifts (EBFL) for the U.S. Marine Corps.
JLG is an Oshkosh Corporation company that manufactures aerial work platforms and telescopic material handlers.
Also known as Millennia Military Vehicles (MMVs), EBFLs reach into trucks or shipping containers, lift loads over obstacles and pick up loads from both above and below grade.
Capable of moving all palletized material classes up to its rated capacity, the four-wheel drive, rubber-tired forklift is medium-lift capable, with an optimum lifting range of 4,000 to 11,000 pounds. In addition, the EBFL provides three steering modes – two-wheel, four-wheel and crab steering – to provide maneuverability in tight spaces.
The EBFLs will be built at the JLG facility in McConnellsburg, Pa., with an anticipated completion date of August 2012.
For additional information about MMV, go to www.jlg.com.