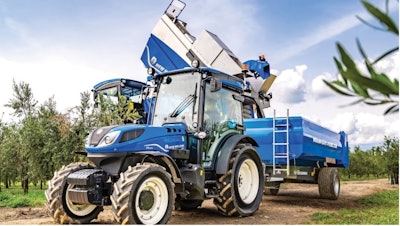 New Holland Agriculture has introduced the VisionView cab on the T4 F/N/V Series and a new, more powerful engine and compact hood on the TK4 Series.
According to New Holland, the revolutionary VisionView cab introduces the comfort of an open field tractor in the narrow T4 F/N/V Series, with a spacious environment and flat deck for all types of operators. The exclusive design of the front window, combined with the lowest and most compact hood on the market that is covering and protecting all the after-treatment systems, provides a unique style and best-in-class visibility. The one-piece side window and four-pillar design further improve visibility to the sides and rear, overcoming the challenge of increasing roominess in a constrain space.
The VisionView cab is also the quietest in the segment, with a noise level as low as 71 dB(A). The company says this adds to the operator's comfort and safety and is available with the full benefits of the exclusive Blue Cab4 with Category 2 and 4 double filtration system. The infotainment and human-machine interface have also been upgraded with InfoView digital instrument cluster to manage all machine controls and settings.
The T4 F/N/V VisionView cab delivers a powerful performance with emissions 40 times lower than its predecessor. The company says the F5C FPT engine achieves the highest torque, 518Nm, at the lowest RPM, 1,300, as well as a torque backup of up to 40%. Besides the power, these features provide the most flexible solution to the customers for all their applications and needs. Following customer requirements, hydraulic circuits have been redesigned, delivering with just 1 pump up to 80L/min. for new linkages and hydraulic remotes.
New Holland also notes The TK4 series crawler tractors have been updated with new styling to match the latest wheeled specialty tractors.
The open field models have been upgraded with new, more powerful Stage V engines with maximum power ranging from 85 to 109 HP and an after-treatment system with EGR, DOC and SCRoF. The narrowest models feature a 75 HP Stage V engine and after-treatment system with EGR, DOC and DPF, but does not require DEF. On all models, the compact design of the engine and after-treatment system fit under the hood, ensuring excellent visibility and maneuverability, the company notes.