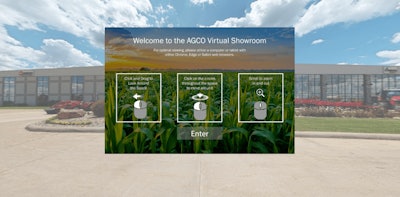 AGCO has announced the launch of its virtual showroom platform.
"An online AGCO showroom has been planned for some time, but the coronavirus prompted us to push up our timeline because many in-person events have been canceled this year," says Lauren Dejmal, manager of event marketing. "Now that it's available, people who would have attended those events, as well as anyone else, can explore countless AGCO products from the comfort, safety and convenience of their homes and mobile devices."
The online showroom leverages the layout of AGCO's Intivity Center facility, the company's assembly plant and corporate museum located in Jackson, Minn., which provides guided tours and learning opportunities to the public in times not impacted by the virus. Virtual visitors can explore the facility, see 360-degree views of equipment, watch product videos, download brochures, submit requests and even visit the company merchandise store.
"The best thing about this format is not being limited by space, location, travel concerns or even the weather," says Aaron Belanger, farm show manager. "Logistical concerns simply don't exist here: this virtual showroom will hold every product we manufacture and allow anyone to explore them at any time, on any day."
Dejmal says the current virtual showroom is only in its first iteration: "We have many more capabilities planned and we'll continue adding more brands, more products and more features to the experience. We've really only scratched the surface, so we encourage viewers to check back frequently and discover the newest features and enjoy what's still to come."