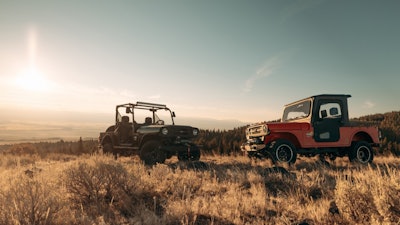 Mahindra has announced the launch of its new ROXOR off road SXS available at select Mahindra dealerships. Production has already begun in its Auburn Hills, Mich., assembly plant and product began shipping to dealers the first week of November.
"The ROXOR brand has built a passionate following with off-road enthusiasts and rural lifestyle customers. We are excited to bring this unique SXS back into the market," says Viren Popli, president and CEO, Mahindra Ag North America and Mahindra Automotive North America. "We are redefining the SXS category with this strong and rugged machine. It is designed and built for reliability and performance that will exceed customer expectations."
The new ROXOR maintains the core strength of a boxed steel frame, steel body, a Mahindra 2.5L turbo diesel engine, and its unmatched torque and towing power. Mahindra says ROXOR is perfect for farmers, ranchers, outdoor enthusiasts and rural property owners who are tired of having to fix and replace light-duty, plastic-bodied side-by-sides.
"The fast-growing rural lifestyle segment presents a great opportunity for ROXOR," adds Rich Ansell, vice president, marketing, Mahindra Automotive North America. "The demand for the ROXOR with farmers and ranchers is strong due to the vehicle's ability to take on the tough jobs around their property. They already know and like the Mahindra brand because of how successful we've been with our tractors, and we intend to build on this strong reputation for tough, easy-to-use products."
"The Mahindra brand is synonymous with tough and ROXOR further solidifies this position," Popli says. "We are excited to create a new definition of SXS, one that matches our tractors for tough and handles any job with ease."