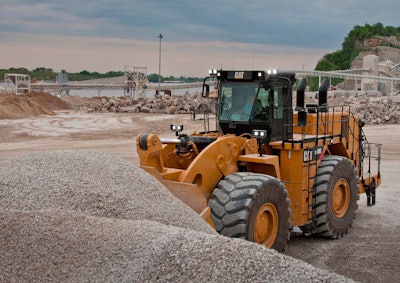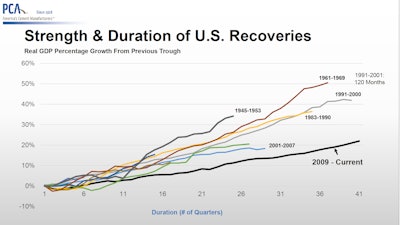 The two pillars of the economy — consumer spending and labor markets — remain solid, portending at least a modest growth in 2020, says Ed Sullivan, senior vice president and chief economist, PCA. "As long as you have strength in those, the economy will remain strong and you will see continued moderate economic growth. The recovery is aging but the fundamentals remain solid." Sullivan spoke during the recent World of Concrete show.
Even though the U.S. economy is in the midst of its longest economic recovery, it doesn't mean that we're aimed for a significant downturn, Sullivan says. "Recessions don't just happen, they are caused, typically in response to excesses. This recovery has been slow growing and it hasn't created a need for a recession."
PCA expects cement consumption to grow by 1.7 percent this year; if residential construction is stronger than expected, cement consumption could be as high as 2.7 percent.
That doesn't mean there aren't cautions. Because the growth rates is not as strong, it becomes more vulnerable to potential disruptions, including "slower global economic growth, declining consumer sentiment, trade issues and the threat of coronavirus fully hitting the United States," says PCA.
Rental will be up 3.8 percent this year
The American Rental Association says equipment and event rental companies will generate $58.1 billion in U.S. revenues this year, up 3.8 percent compared to 2019.
Total U.S. rental revenues are expected to grow by 4.1 percent in 2021, 4.2 percent in 2022 and 3.5 percent in 2023 to reach $65.2 billion, says ARA.
"The good news is that there is no recession in this forecast" says Scott Hazelton, managing director, IHS Market, the economic forecasting firm what compiles the data for ARA Rentalytics.
Strong construction growth areas in the U.S. continue to be Nevada, Texas, Florida and Arizona, Hazelton says. "California is also growing quite well," he said.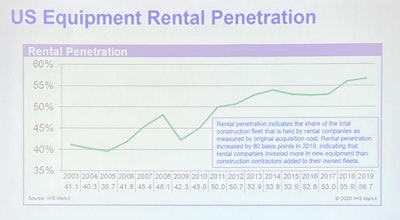 Perhaps more important to the rental industry is the rental penetration index, a measurement of the original equipment costs owned by rental companies compared with what is owned by all equipment owners. ARA says this index is up to 56.7 percent in 2019, compared to 55.9 percent in 2018.
"We've been at a record level penetration in the past two years, and if I had to make a guess I would say it goes up again next year," Hazelton says.
Adds John McClelland, ARA vice president, government affairs and chief economist, about the increase in rental penetration: "Rental companies have become problem-solving companies helping customers make more efficient business decisions and reducing the uncertainty that comes with making large capital investments in equipment…This trend will continue for the foreseeable future."
This increase will likely be helped along by present market uncertainties, including tariffs the effect of the coronavirus on the equipment supply chain. Market uncertainties combined with machine technology will continue to push contractors toward rental, Hazelton says.
ARA said it is updating its subscriber Rentalytics platform, adding equipment category classes and creating new annual state economic impact reports. Additions planned for 2020 include updates to the platform's light equipment and general tool reporting and a rental research webinar series. It will also add a new quarterly Rentalytics State Digest subscription that features a rolling two-quarter forecast and a link to state economic and business environment analysis.