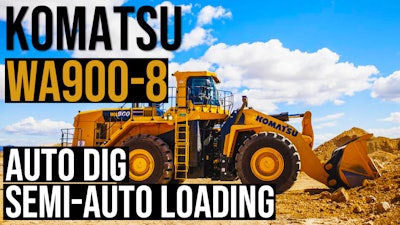 New ATJ 60 is Manitou's tallest articulated boom lift for N. America
Manitou has launched the ATJ 60 for North America, the highest-reaching articulated boom work platform in its lineup for the continent.
Manitou first introduced its articulated lifts to North America in 2018 and began adding straight telescopic boom lifts in October.
To read more, click here.
---
Komatsu's new HD785-8 rigid-frame truck boasts enhanced maneuverability
Komatsu touts the ability of its new HD785-8 rigid-frame truck to maneuver the jobsite, enhanced by such standard features as wet multiple disc brakes on all four wheels and automatic traction control.
The wet disc brakes are designed to improve downhill brake performance. Komatsu says the truck, made for mining, quarry and aggregates operations, also accelerates fast out of the pit.
To read more, click here.
---
BOMAG BF 200 small construction paver can pave widths from 1.3 to 11.2 feet
BOMAG's new BF 200 small paver is narrow enough to fit in the cut of a 4-foot cold planer on mill-and-fill tasks on road rehabilitation projects. It can also pave cart paths.
Paving widths range from 3.6 to 6.6 feet. With manual screed extensions, the width can be extended to 11.2 feet, and reduction skids can bring width down to 1.3 feet.
To read more, click here.
---
Official 2020 Harley-Davidson GMC Sierra is a limited run pickup with a ton of custom features
With the help of custom, aftermarket shop Tuscany Motor Co., Harley-Davidson is extending its limited edition, branded pickups to GM fans.
Harley and Tuscany introduced a custom branded F-150 last year. And like the F-150, while this new 2020 Harley-Davidson GMC Sierra isn't made in partnership with GM, it is an officially licensed Harley product and it has the sticker price to match.
To read more, click here.
---
VIDEO: Komatsu WA900-8 Loader Does the Digging and Dumping For You
Designed for loading 70-150-ton trucks in quarries, the new Komatsu WA900-8 replaces the previous WA900-3E0 with a loader that is more powerful and has a redesigned cab with improved visibility. But the headline features of this new loader are tech-based, including a few new autonomy features that make this loader capable of automatic digging and nearly automatic truck loading. Watch the video for all the details.
---