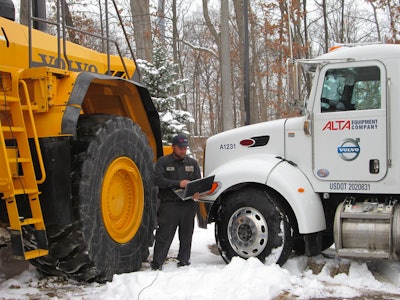 Alta Equipment Holdings, Livonia, Michigan, has merged with B. Riley Principal Merger (BRPM), a special purpose acquisition company, to create a publicly-traded equipment dealership platform valued at approximately $550 million. Alta carries Volvo Construction Equipment and JCB lines, among others.
When the deal closes, BRPM says it will change its name to Alta Equipment Group and apply to list its stock on the New York Stock Exchange under the ticker symbol "ALTG."
Alta Equipment will have a pro forma revenue of $900 million for 2019, says the release announcing the merger. This includes the $95 million acquisition of two dealers by Alta now under non-binding letters of intent and in pending negotiation. During a call on the merger, Alta said the unnamed dealers were "the Volvo dealership in Florida," presumably Flagler Construction Equipment, and a Hyster-Yale dealership in upstate New York.
With the acquisitions, Alta will operate in 43 locations across Michigan, Illinois, New England, New York and Florida. The company will be led by CEO Ryan Greenawalt, who owned the existing equity interest in the prior Alta company and will roll 85 percent of his equity into Alta Equipment. Dan Shribman, CFO of BRPM, will serve on the board.
Greenawalt rejoined Alta, his family's firm, in 2008, coming to the company from a financial services background. Since then, the company has acquired 16 equipment dealers and grown revenues at a compounded annual rate of approximately 27 percent from 2009 to 2019 (including the two potential acquisitions), says the release.
In addition to construction equipment, Alta also also serves clients in logistics and warehousing, wholesale and retail, biotech education and manufacturing.
Two growth targets: technicians and acquisitions
During a call discussing the merger, Greenawalt said Alta offers a "clear competitive advantage" with its teams of skilled technicians and a commitment to 24-hour/365-day service.
Equipment technicians are mission critical to this commitment, as outllined by Tony Colucci, Alta Equipment chief executive and financial officer, on the call. "The parts and service business requires a pool of skilled mechanics which we think of as Alta's crown jewel," Colucci said, "and we have developed a strategy to recruit and retain these critical employees."
This includes regularly hiring "mechanics away from independent rental or service businesses in our markets where a lack of access to OEM parts and diagnostic tools make servicing increasingly sophisticated equipment difficult," Colucci said.
During the call, Shribman said Alta has become "the M&A partner of choice for equipment dealers. As a result of its proven track record of identifying and integrating acquisitions, we see a robust pipeline of consolidation opportunities in an extremely fragmented market, largely represented by independent family-owned dealerships."
The deal is expected to close in the first quarter of 2020.