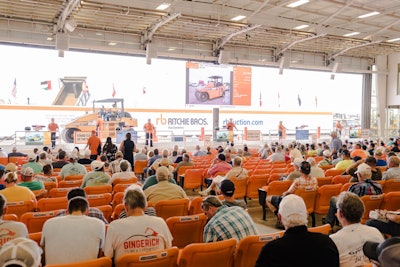 Ritchie Bros. Auctioneers says that Ravi Saligram, CEO and board member, will step down effective October 1 after five years with the company.
The company says it is now conducting "a thorough, thoughtful search for Ravi's successor," and will consider both internal and external candidates.
"Over the past five years, Ravi has led the transformation of the company, building on its strength as a live auction company to become a world leader in providing solutions to customers for their equipment needs," says Bev Briscoe, Ritchie board chair. "With the acquisition of IronPlanet and its successful integration, Ravi leaves us with a robust platform and strategy firmly in place for continued profitable growth."
"Leading Ritchie Bros. has been both my passion and my honor," says Saligram. "We have shifted the paradigm from being the world's largest live auction company to a multi-channel, technology enabled equipment asset management and disposition platform. We have built a strong foundation for the future with our live auction and online prowess, digital expertise and data analytics capabilities. We have formed the best management team in our industry, with a diversity of both people and thought to create exponential innovation, and teams that never lose sight of the customer as our anchor."
Saligram says it was "the right time for me to rejoin my family in the U.S, take on new career challenges and hand the baton to a new CEO to build on all we have accomplished as a team."
Ritchie Bros.'s acquisition of arch-rival IronPlanet, completed in 2017, also initiated a five-year alliance with Caterpillar. This spring, the company promoted Jeff Jeter, former president of IronPlanet, to president of upstream and emerging businesses, which focuses on growing non-auction services.
The company broke a personal-best record at its Orlando auction in February in a $297 million sale of 13,350-plus pieces, a 7 percent increase over the previous year.