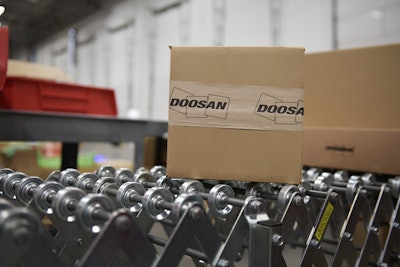 Doosan Infracore North America has opened its second U.S.-located parts distribution center near Seattle, following the opening of its 100,000-square-foot parts distribution center in the Atlanta area late last year.
The 57,000-square-foot center in Lacey, Washington, will nearly triple the company's parts inventory for dealers and customers in North America, Doosan says, and give them better service options, deeper inventory and faster delivery.
The facility will be managed by logistics company DHL Supply Chain. The center will initially stock approximately 9,000 SKUs to service Doosan equipment throughout the Western United States and Canada. Machine parts stocked will include those for Doosan articulated dump trucks, crawler excavators, material handler, compact excavators, log loaders and wheel loaders.
DHL's Transportation Brokerage Service will manage the Doosan less than load (LTL) outbound transportation to Doosan dealers in the coverage area.
According to Clay Caldwell, Doosan director of parts, the Atlanta center will serve Doosan dealers and customers from the East Coast to the Midwest, while the Seattle area center serves customers from the West Coast to the Midwest. "The new facility's location is intentional, knowing we have a large customer base in the Pacific Northwest who work in forestry and logging applications," he says in a press release.