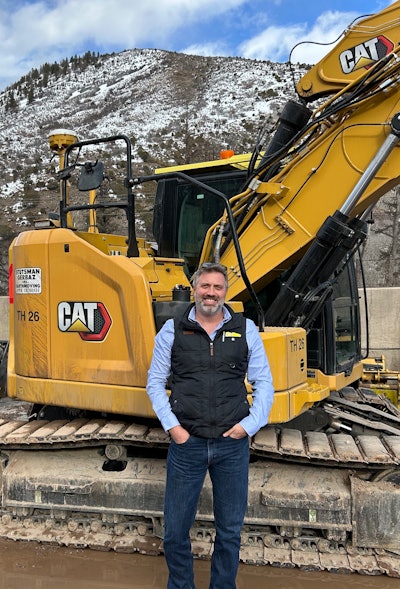 Equipment World
Shay Stutsman fell in love with construction equipment at a young age, operating his first mini excavator at 3 years old.
He would frequently ride on a Cat 955 track loader while his father operated it for the family's construction business. Shay ran heavy equipment throughout high school and college for the earthmoving company, performing site work for high-end residential projects in Aspen, Colorado.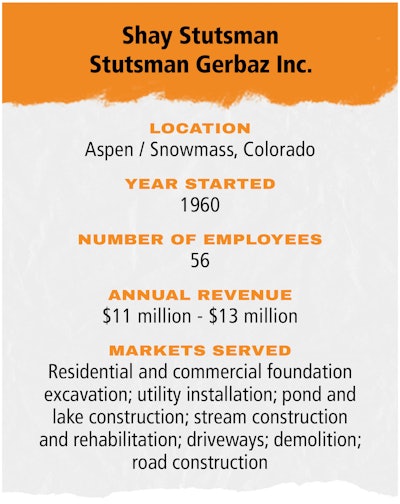 Fast-forward to today, and he's now the third generation to own Stutsman Gerbaz Earthmoving. In 2016, Shay bought into the company from his extended family with a 25% ownership stake. And in 2019, he purchased the remaining 75% of the company from the rest of his family, which consisted of his father and two aunts.
Formed in 1960 by Stutsman's grandfather Dick Stutsman and Dick's brother-in-law Jerry Gerbaz, it is the oldest earthmoving company in Aspen and helped build the town into the upscale resort it is today.
Shay has helped double sales volume over the past four years and been among the first in the U.S. to adopt innovative technologies to increase efficiency, production and profits. Those include a rapid-coupler attachment system to reduce the number of machines and crew sizes on a job and an excavator bucket with ground penetrating radar.
For that and more, he is Equipment World's 2023 Contractor of the Year.
A new approach to earthmoving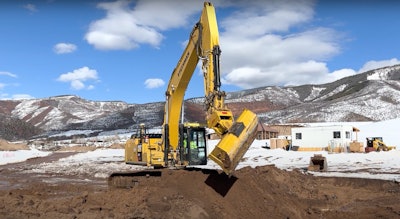 A few years ago, the leadership of Stutsman Gerbaz took a trip to Switzerland.
There they saw a technology that would change their entire approach to earthmoving, leading them to significantly reduce the number of machines on a job and the size of their crews.
Though it had been around for years in Europe, the OilQuick quick-coupler and attachment system has not been widely adopted in the U.S.
Shay and the team – which consisted of his father and company Vice President Dave Stutsman; Vice President of Field Operations Jake Kinney; and Chief Financial Officer Adam Fortier – saw a way to higher efficiencies, productivity and profits they could never achieve under their traditional approach.
Fortier ran the numbers and calculated a payback period of eight months. "When I realized that our payback on investment was less than 12 months, it became very apparent that this is a no brainer."
Now with all of its 14 excavators equipped with the quick-attach system, projects that once took three or four machines can now be done with one excavator.
Attachments are lined up in a nearby spot on the jobsite and quickly changed out to handle the various tasks while the operator stays in the cab. Tools such as hydraulic hammers, buckets, plate compactors and concrete processors are switched in seconds, eliminating the need for additional equipment and personnel.
As one example of the efficiencies, an excavator on a recent pond project was equipped with a 96-inch-wide tilt bucket. Not only could the bucket excavate large amounts at a time, but it could act as a dozer blade. That meant the excavator operator could do all the work for building the new pond without a dozer. And when another task was called for, another attachment could be added in less than 30 seconds.
An excavator bucket with ground penetrating radar
The attachment system is just one of the technologies, Stutsman Gerbaz has adopted to stay ahead of the competition in one of the country's most upscale and tightly regulated construction markets.
It was the first in the U.S. to equip a track loader with GPS machine control. Now, all of its track loaders, excavators and dozers have 3D machine control. The company created a new position about two years ago to handle all of its 3D modeling in-house.
"That also has increased our ability to be way more efficient on the jobs," Shay says. "We're not moving dirt three and four times. We're moving it once. We're putting it in the exact right place where it should be."
The company is one of the first in the U.S. to sign on to Trimble Platform as a Service, or TPaaS. With it, the company pays a monthly subscription fee and gets Trimble's latest software and hardware upgrades automatically.
"That allows us to always stay at the forefront of technology," Shay says.
The company was also the first in the U.S. to own a Cat Next Generation 325 variable-angle boom excavator, which comes in handy on Aspen's tricky demolition and deep foundation projects, in which 60-foot-deep basements are dug underneath existing houses for swimming pools and gyms. The company now has three of these VAB excavators in its fleet.
The latest first for the company is to be an alpha tester for an excavator bucket equipped with ground penetrating radar. Rodradar, a company based in Israel, chose Stutsman Gerbaz to test the bucket, which can detect underground utilities in real time. Stutsman has been using it on a project to replace old underground power lines in Aspen.
"It's just like the Holy Grail for earthmoving," Shay says. "We're finding things that we shouldn't find, like plastic irrigation lines, that no utility locator ever locates.
"But where this has really increased our efficiency is knowing that there's nothing in the ground, so we can actually take full scoops and trench really comfortably."
All of the technology combined has made the company more competitive, able to pivot quickly to new jobs and save time on projects. It's also made its customers happy.
"They are forward thinking, implementing new technologies that improve efficiencies, and more than anything, they are good people to work with," says Blake Hansen of Hansen Construction. "When Stutsman is on the job, the entire project seems to go better. Not only are they good to work with, but they are passionate about what they do."
Making life better for workers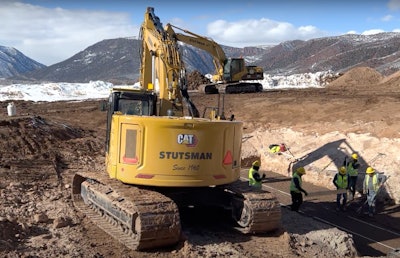 Technology has also helped boost a company culture that focuses on quality work, safety and treating workers, clients and vendors with respect.
"The laborers aren't having to work nearly as hard because we have technologies such as ground penetrating radar buckets along with many other specialty attachments. They know exactly where things are, and they don't have to go searching for it," Shay says. "GPS is also making it so that they don't have to shovel as much" or be out holding lasers.
With the OilQuick system, workers aren't spending 10 to 15 minutes at a time changing out attachments, and it's safer, keeping workers out of trenches. "Once pipe is installed, you can pull the (trench) box and complete the backfill process with excavator attachments, eliminating personnel in the trench," says Kinney, V.P. of field operations. "It's a huge time-saver, a lot more efficient, but safety was a primary concern."
The technology effect has also translated into happier workers and less turnover. Fortier says it has enabled the business to promote more from within the company.
"All of their employees seem very happy … which comes through in their work," says Chris Madigan with Madigan + Company general contracting firm.
Stutsman Gerbaz puts a high premium on retaining workers and offers some impressive benefits, including paying 100% of employees' and their families' health insurance premiums.
Most workers can't afford to live in Aspen, so the company has three vans that transport employees who live 50 to 60 miles away to and from work each day at no cost.
Safety is also a top priority and goes hand-in-hand with quality.
"We always say that quality and safety are equal, because if you're doing a quality job, you're doing it safely," Shay says.
All of the workers know that if they're in a trench without a trench box, they're out of a job. The company also will lend out its trench boxes and assemble them for competitors.
Becoming a 100-year company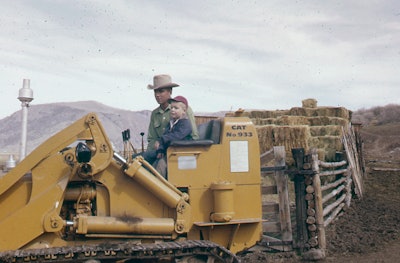 When looking to the company's future, Shay has taken a visionary, proactive approach beyond what is typically found at a small business, Fortier says. "We're constantly thinking about the future."
The goal is to become a 100-year company. At 63, it's more than halfway there.
"I just feel that it would be a really good tribute to my family, to my grandfather to see it go as far as we possibly can," Shay says. "I'll be 75 when that happens. I think that's a decent retirement age."
When asked to sum up his guiding philosophy, Stutsman replies with one word:
"Respect."
"I want everybody to respect each other within the company. But I also want everybody to respect the industry and what we're doing."
The Instagram social media platform has been one way he hopes to increase respect for the trades with posts of the company's work. The company also strives to make a good presentation out in public view with well-organized jobsites and professional appearance and attitude.
"They set the standard for earthmoving subcontractors in this region," Madigan says. "They are really head and shoulders above their competition."
Building on the foundation set by his family, Shay vows to continue to strive for excellence.
"We want to be the company that everybody else is compared to," he says. "Complacency can never be an option."