With its four new Max-Series machines, ASV says it redesigned every inch of its RT-65, VT-70, RT-75 and RT-75 Heavy Duty compact track loaders. In this video we dig into how ASV essentially reimagined the very idea of the CTL as an operator-centric machine with a bevy of comfort and visibility improvements.
---
---
Granted, ASV's all-new machines don't necessarily look radically different from the machines that came before them or other CTLs on the market for that matter. But they are drastically improved in a lot of ways and feature some pretty smart and innovative updates.
Most of the improvements you'll find on the new RT-65 Max, VT-70 High Output Max, RT-75 Max and RT-75 Heavy Duty Max have nothing to do with performance. ASV says it's very confident in existing machine performance, so engines, horsepower ratings, hydraulics, that stuff is pretty much the same as it was before.
Instead, ASV chose to focus its efforts on elevating the compact track loader itself. They asked how can we improve upon the design of this machine type? How do we make it more comfortable? How do we make it easier to see out of? How do we make it easier to get out of and get into?
How do we make a CTL a machine operators will love being inside of? And how do we take all of these things to their maximum potential?
Doing these things—making a CTL that is operator-centric—involved second-guessing a lot of design concepts that have become reflexive when designing a CTL. And ASV thinks the result is pretty special, which is why they're calling their latest models the Max-Series.
Lineup still has non-"Max" models
One thing to state before we get into the details of these specific machines is that while ASV is calling these machines the "Max-Series" as of right now, this launch does not represent a full refresh of the company's CTL lineup.
Instead, the four max models, the RT-65, VT-70 High Output, RT-75 and the RT-75 Heavy Duty have been nestled right in the middle—right in that size class sweet spot—of the ASV CTL lineup.
So the smaller RT-25, RT-40 and RT-50 are still available, as are the larger RT-120 and RT-120 Forestry models that make up the rest of ASV's lineup. They just haven't gotten the Max treatment yet. ASV's Product Line Manager Buck Storlie, says these new Max models are aimed at the "heart" of the CTL market and the company was focused on delivering these improvements and upgrades to machines that represent the highest sales volume slice of the compact track loader segment. As for whether or not the rest of the lineup will go Max, we'll have to see.
Spec overview
All four of these new Max-Series machines fall solidly in the mid-size CTL market and all of them fall under 75 horsepower engine ratings and thus avoid the need for emissions aftertreatment.
The RT-65 is a 7,480-pound CTL powered by a 67-horsepower, 3-cylinder turbocharged Deutz engine. It has a radial loader pattern with a rated operating capacity of 1,925 pounds at 35 percent of tipping load.
The VT-70 High Output—V standing for this machine's vertical lift pattern which is sometimes preferred by those doing a lot of loading work at height—is a 8,035-pound machine with the same Deutz engine as found in the RT-65 but with a slightly higher horsepower rating of 74 horsepower and more torque at 207 lb-ft compared to the 184.4 lb-ft found on the RT-65. Rated operating capacity on this High Output vertical lift model is 2,328 pounds at 35 percent of tipping load.
That brings us to the RT-75 Max models. These machines skirt the line a bit between the mid- and large-size frame classes and are radial-lift CTLs powered by a 74-horsepower, 4-cylinder, turbocharged Cummins engine with 221 lb-ft of torque.
Operating capacity on the RT-75 and RT-75 HD is actually one area where we can talk about performance improvements with these new Max models. The RT-75's 2,750 pounds at 35 percent of tipping load and the RT-75 Heavy Duty's 2,850 pounds at 35 percent of tipping are up around 200 pounds from the previous generation.
Operating weight varies slightly between these machines. The RT-75 weighs in at 9,060 pounds while the HD model is at 9,210 pounds.
Now, briefly focusing on the RT-75 Heavy Duty for a second, ASV aims this model towards the brush cutting industry as this machine features heavy duty guarding, over-the-glass side screens and a half-inch thick polycarbonate door to protect the operator from slung objects. This model also features a reversing fan, self-leveling, ride control, an air-ride seat and other premium options as standard.
Standard hydraulics on the Max-Series models provide around 22 gallons per minute on all four of the machines but optional high flow hydraulics are an available option. High flow enables up to 27.4 gallons per minute on the RT-65, up to 27.9 gpm on the VT-70, and up to 35.7 gallons per minute on the RT-75 and RT-75 Heavy Duty.
And like their predecessors all four new Max models ride atop ASV's excellent Posi-Track Undercarriage system. On both the RT-65 and VT-70 you'll get 15-inch-wide tracks with 59 inches of track on the ground. The RT-75 and RT-75 HD up the track width to 18 inches while placing 71 inches of track on the ground.
What makes them "Max"?
With the preliminary specs out of the way let's talk about the "Max" improvements to the Max-Series. And the best way to characterize these updates is that you'll probably need to sit in these new machines to fully appreciate the step forward ASV has taken here.
Max Visibility
First up, ASV is introducing a new structure design that brings along some huge improvements to visibility. On the sides of the machine, ASV has implemented new all-glass side panels that give you 68 percent more visible area than the previous design.
The new panels reach further down the sides of the machine giving you visibility to the tracks and the ability to see the ground closer to the machine as well as being able to see the bucket edge closer to objects. (You can get a much better idea of the visibility in these machines in the video above.)
There's also a new frameless, curved glass door that brings a 32-percent increase to visible area.
"All of a sudden you see the vast difference and vast improvement it is over really anything on the market today," Storlie says. "We started with getting rid of additional metal along the sides and thinking about the glass work. How do you reduce the framework around it?"
Storlie adds that ASV also paid a great deal of attention to the shape and placement of objects in the cab like switches and control panels and how those can interfere with visibility.
"There's simple improvements like the side pillars when you sit in the machine and you look forward and you see where the switches and things are on the side pillars; in the past designs have always just been big boxes," Storlie explains. "Now you'll see they're formed and actually tilted toward the operator slightly to go with his line of sight. Anytime there's an object in the way, it's been shaped in a way that takes the minimal amount of [effort]—maybe a head lean or a turn—to see around that object."
Next is a larger roof opening that gives you increase overhead visibility. And then there's a new three-panel rear window that gives you 31 percent more visibility behind you. This is the result of ASV taking the pillars at the back of the cab and moving them forward, taking what was a single visibility plane between the two rear pillars and wrapping it around the corners of the cab to form a three-panel window.
Storlie says this goes a long way in eliminating those blind spots in the rear corners.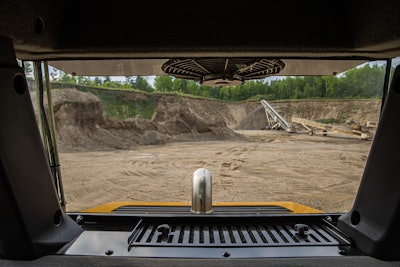 "The three-panel plane takes that blind spot and moves it closer to your actual pivot points," Storlie says. "So when you're in a track loader and you're pivoting on your center axis, the closer you can have that blind spot to that center axis, the less it is actually harmful to you. So now you can actually turn your head to the rear and [when you're moving backward] your blind spot is [now] not where your machine is actually moving. It's ahead of you, so it's not bothering you any further."
Max Safety
With more glass being added to these machines, safety is bound to come up. Storlie tells us the new cab design is just as safe and hardy as the previous generation despite the added glass and actually you can spec all four of these machines out to offer Level 2 FOPS protection, something that previously was only available on ASV's RT-120 Forestry model.
Plus the same heavy duty guarding available on the RT-75 HD is also available across the other three machines in the Max-Series lineup.
And speaking of safety, ASV has made a major change to the roof of this machine that provides a new emergency exit in the industry-first roof hatch.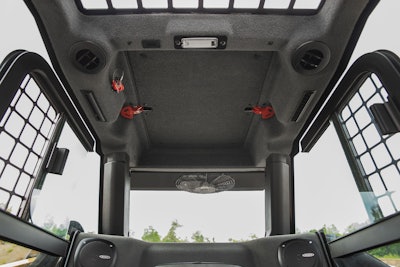 In the event of an emergency, rather than exiting through the rear window and over the engine compartment, the roof hatch allows you to flip a couple of small red latches in the roof, push the roof panel up and exit through the roof of the machine. Storlie says this method of emergency exiting is faster and easier, plus it's safer since it keeps operators from having to crawl over a hot engine compartment.
"This technology has been used in the past and some in the forestry industry, but just not really taken on in the construction industry. We looked at its use in some other places and said 'Hey, that's a better way to do it,'" Storlie says.
One last structural change made to this machine that's worth noting is that ASV has lowered the step-in height of the door. The door opening now drops lower than any previous design the company has put out and it makes getting into these machines much easier.
And speaking of the door, if you want to remove it completely, you can. ASV has made unplugging the door and lifting it off its hinges quick and easy and allows operators who want to work without a door to do just that without having to bypass a safety switch.
Max Comfort
Given the major changes made to the structure of this machine in the aim of increasing visibility, changes to the cab itself were a must. ASV says the new cab design found on these Max-Series machines is the most comfortable cab on the market.
"Then we focused on around the operator…The area you sit in, that's the area that matters…and that's where a lot of our focus came.
While increased visibility and decreased blind spots were already a good start to increasing comfort, ASV has also increased the size of the cab. Overall, the interior is 2 inches wider than before. That increase in structure width along with a redesign and shuffling of the cab components has enabled a major increase in roominess inside these machines.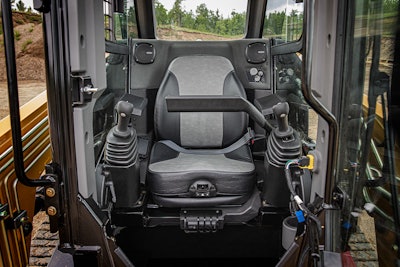 For starters you'll get 4.5 more inches of legroom, enough for even tall operators to straighten their legs out.
And while additional shoulder room comes thanks to the widening of the overall cab structure that we just mentioned, the new cab also gives you a massive 8 inches of extra width at your knees. That's thanks to a repositioning of controls and switches that have traditionally been placed near the arm rests or by the controls. ASV has moved all of those controls up to the front pillars that flank the door.
"The main reason is to get [the switches] in the operator's peripheral vision so when you're running, you don't have to look away from there to make adjustments to your control, flip a switch, those types of things. They're also a straight reach from your control so you don't have to stop operating and hunt," Storlie says.
Max Display
Complementing those repositioned switches on the left side of the cab near the roofline is a new 7-inch touchscreen display that houses machine operation gauges, maintenance alerts and the view from the standard rear-view camera.
"You know, first just better gauge visibility than we've ever had in the past. So a six-gauge homescreen where we've got all the big gauges and main things there. Then we've also added a new feature in the operator job clock. Anytime the engines are running the job clock will be taking hours and keeping track of that amount that's used," Storlie explains. "It's also monitoring the fuel consumption of the machine to that job, idle time, things like that. So the job clock is a really cool new feature for you know, when you're ready to build a job or you want to monitor a job, you can really see what you have into it and what you know what that machine did there on that job.
The new display also features key code entry access and the ability to split screen the rearview camera view with machine gauges.
Max Adjustability
With the switches and controls we talked about earlier out of the way, not only do you get more room for your butt, thighs and knees, it also gave ASV room to give their joystick controls and the armrests much more adjustability. Specifically, these controls and armrests know feature four-way adjustability.
"We see the competition bringing forward sliding adjustable controls and those becoming common in the CTL industry. But you know, we wanted to go a little further. In the automotive world, they have six-way power seats. It's that type of technology that spurs us to wonder where can we do more," Storlie says. "With our four-way [adjustability] you can not only get fore and aft adjustments, you can also do height adjustment, you can do angle adjustment and you can do width adjustment. We all have a little different preference on how we like to sit and that's really what we're trying to achieve there with all those different adjustments so all those operators can find the right spot."
Another comfort feature that serves a dual purpose is a new single-side lap bar. Not only does this make for easier entry and exit to the cab of these machines since you don't have to duck under it, it also provides another increase in roominess at the operator's hips. The new side lap bar also allowed for ASV to provide more surface area on the armrests themselves.
Furthering the focus on comfort, ASV has also implemented a new 7-vent HVAC system that does a better job at distributing air more evenly throughout the cab and making sure one of your body zones isn't sweating while the other freezes.
ASV adds that the Max-Series machines boast best-in-class cab pressurization for a quieter, cleaner working environment.
"This cab is sealed better than anything we've done in the past and it's got good outside air intake. In total getting 50 Pascals or greater pressurization [is] really five times what we tested for our competitors, anywhere from five times or more," Storlie says.
Other notable cab features include a Bluetooth radio with high-definition speakers and a dedicated smartphone holder with nearby USB jack for charging and audio playback. While a dial-style hand throttle is standard on these machines, a foot throttle is an available option.
Maintenance
On the maintenance side, all four ASV Max-Series machines feature a three-panel rear hood, a design that allows the hood to tilt up as well as the sides to go out. Plus there are swing-out and lean-out rear radiators and oil coolers.
"So, all together, you've got that four-direction access to the engine. [Most CTLs] they just have a single-swinging rear door. Our four panel rear really opens things up and you can see that engine and access things there," Storlie says.
ASV has also revised the hose roasting and clamping aiming to maximize the machines' durability. There are also new wire harnesses with sealed fuse panels that will make the machines even less susceptible to excessive weather conditions like rain, snow, mud, cold or heat.
Access to the fuse panels and relays has also been improved through relocation to more accessible areas. The main access is in the engine bay while the cab access is in the cab.
Another major improvement in terms of serviceability with these machines is that ASV has revised the cable positioning beneath the tilting cab to make it easier for technicians to fit ratchet or impact tools inside.
"If you move to the side of loader, you can look at things like our loader pins. Each of our loader pins has a grease zerk located on the end of the pin," Storlie says. "In some designs, you kind of have to peek your head up underneath that zerk maybe in the center of a pin or whatever. By putting them out on the end of the pins, you just make it that much easier and quicker for an operator to walk by and grease the machine and not miss one and not take as long to do it."