Komatsu is bringing back the PC130-11 after pulling it from the U.S. market nearly 10 years ago. In the video below we dig into why Komatsu did it and the important role the PC130 plays as a bridge between the company's small and mid-size excavator lineups.
---
---
After an absence of several years from the U.S. market, the Komatsu PC130 excavator is officially back. The last PC130 that was offered in North America was the PC130-8, which went on sale in 2008 and left the market in 2011. Positioned as an entry-level excavator, Komatsu says the new PC130-11 serves the purpose of filling in a pivotal gap between its small and medium sized excavator lineup that became apparent in the machine's absence.
Now, the reason that gap is pivotal and why it posed a very interesting challenge for Komatsu engineers is because a lot of customers—especially construction customers and utility customers on the small end or just starting out—might find themselves stuck deciding between a more affordable but ultimately a less powerful machine out of Komatsu's compact excavator lineup that might not meet their needs, or another machine that, while offering more power than the mini models, might have more power—or size—than they need or want, and at a price they can't afford.
That is where the PC130-11 comes in.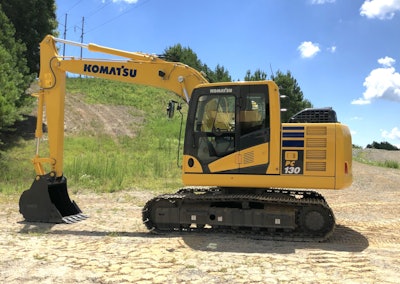 Continuing the discussion at the top about what and who this machine is for, the PC130-11 is squarely aimed at excavation or utility contractors looking for construction-grade performance in a lightweight package that is easy to transport.
Komatsu says they were really aiming to develop a small footprint machine that did not exceed 29,000 pounds while retaining durability and the level of performance you'd expect from a medium-size Komatsu excavator.
The result is a machine that weighs in at a range between 28,604 and 28,660 pounds. It's 8 feet, 10 inches wide and, despite its positioning between the small and medium lines—and specifically its position in the lineup between two tight-tail-swing models—the PC130-11 itself is not a zero or tight tail swing model. It's a conventional tail swing machine with a tail swing radius of 7 feet, 3 inches.
A true bridge machine
So how does this machine solve Komatsu's problem of a gap between its small and mid-size lineups? A bit ago we mentioned the two machines the PC130-11 is positioned between so let's compare the new PC130 to its surrounding siblings to see what Komatsu settled on in this bridge model.
In the past, Komatsu has actually described its PC88MR-10 excavator as its link between mini and mid-size excavators. Some of that was simply because it was the largest mini excavator in the lineup.
However, it's a tight-tail swing model, which obviously hinders its lifting capabilities to some degree. And it has a swing boom, and at that point, it's pretty clear that this is a compact machine built for working in tight spaces rather than a true "almost mid-size excavator." Plus the jump between the PC88's weight, engine power and bucket capacity to what used to be the next model up, the mid-size PC138USLC-11, that jump is pretty sizable.
While the current generation PC88 weighs in at around 19,000 pounds, the PC138 is around 35,000 pounds depending on how you configure it—so you're talking nearly double the weight. The new PC130's 28,000-pound weight fits nicely between them and is a much more appropriate mid-way point in terms of size between these two lineups.
All three of these machines have essentially the same 4-cylinder Komatsu engine, however, the PC130 and 138 have a newer generation of that engine and it delivers roughly 30 more horsepower on both of those machines. While the PC88 is rated at 68 hp, the PC130 and PC138 are rated at 97 hp.
And when it comes to bucket capacity the PC88's 0.12 to 0.44 cubic yard capability is more than a step off from the PC138's 0.34 to 1 cubic yard capacities. Here again, the PC130 fits nicely between the two with a 0.34 to 0.78 cubic yard capacity.
Earlier we mentioned that the PC130 and PC138 share the same engine and horsepower rating, but that's not the only way in which the two are similar when it comes to performance.
Both models have a max reach of 27 feet, though the PC138 can go to nearly 29 feet when you equip the optional 9 foot, 10 inch arm. Max depth for both models is 18 feet unless, again, you equip the long reach arm on the PC138 which gives you about a foot and a half more reach. And when it comes to bucket digging force, the PC130 not only meets the PC138 in terms of capability, it actually exceeds it with a force of 18,190 pounds versus the PC138's 17,530 pounds.
The PC88 meanwhile—remember this used to be the bridge between the two size classes—falls squarely behind both models in terms of spec charts with a 15 foot max dig depth, 24-foot max reach and roughly 12,000 pounds of digging force.
And as we mentioned earlier, the PC88's tight tail swing design really becomes apparent when you look at the lifting charts. While the PC130 and PC138 perform similarly across the charts, the PC88 typically displays between one-third and two-thirds of the lifting capability that the other two models offer.
So when you go through these core specifications the picture on the PC130 becomes a bit more clear. In terms of size you are getting a machine that isn't mini, but also isn't 20 or 30 tons, which makes for a nimble machine that is also easy transport. But in terms of performance, you're getting a machine that solidly fits into Komatsu's midsize lineup—something that you just couldn't say about the PC88.
"It's really built and designed around being easily transportable so the owner/operator can carry the machine on a tag trailer [with] no permits," explains Jon Jennings, Komatsu's product marketing manager for the company's small excavators in North America. "It's also going to be great for people running rental equipment businesses or for the guy that 'Hey I need a bigger machine, but I don't know if I need it all the time.' They can go rent it from the dealer and again because of the transportability it's easy to move to their site get it back off the site too and move from job to job."
From an examination of the specs, it's clear that Komatsu delivered on introducing a true bridge machine between its excavator size classes in this new PC130.
"Other applications that this would be great for is basement digging, driveway work, smaller scale construction dirt work jobs," Jennings says. "We have some people finding it really attractive for light hammer, small hammer applications because of that portability and our general Komatsu reliability they know it can take the beating from the hammer and keep them doing their business."
Not just a "value" machine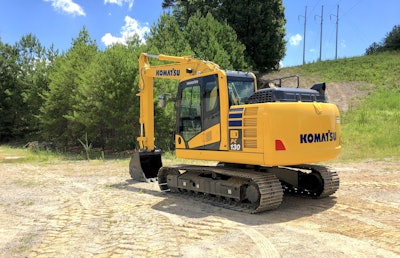 Beyond giving the PC130 true mid-size power in a smaller package, Komatsu also made it a priority to build this machine in a way that provides long-term durability in a construction environment. It's really the first way that you can see that this is not a "value" or "economy" machine even though it is aimed at saving certain contractors a bit of money.
Instead, the PC130-11 is saving them money by giving them a more realistic right-size option at the bottom of the mid-size lineup.
To that end the PC130-11 features steel castings in the boom foot, boom nose and arm tip for spreading working loads away from high stress areas. The machine also comes standard with a double element air cleaner with an auto dust evacuator, debris guards for the radiator and oil cooler and an engine overheat protection system.
Speaking of the engine, it's equipped with a variable flow turbocharger and meets Tier 4 Final emissions standards. It also uses 12 percent less fuel than the previous generation PC130-8. Those fuel savings are thanks to improved technology associated with Komatsu's closed-center, load-sensing hydraulic control technology. This system matches engine and hydraulic demand at the precise, most efficient point under any load.
Meanwhile, Komatsu has also improved the main valve and hydraulic circuit on this machine to reduce hydraulic loss, providing further fuel savings.
Another improvement to the machine's hydraulics is a new quick return arm valve that improves arm cylinder hydraulic flow to give you faster arm out speed and improved arm performance.
The engine also features six working modes for finding that optimal balance between fuel efficiency and performance based on the task at hand. Komatsu says these modes adjust engine speed, pump delivery and system pressure to match the application.
The PC130-11 also features auto idle shutdown for reducing non-productive idle time.
Updated cab
The second way you can tell the PC130 isn't a "value" or "economy" machine is the cab.
The cab is the same cab that we have on all of our other larger—in terms of look and feel—it's the same as you would get in a PC170 or some of your other larger equipment.
The cab includes an automatic climate control system that lets you set your desired temperature, an aux jack for connecting your phone or MP3 player, a pull-up front window, an open/close skylight, AM/FM radio, 12V power supply, ample storage space and more.
There's also a new 7-inch LCD monitor on board the PC130-11. The new monitor features a redesigned interface that displays key machine operation information as well as the view from the standard rear-view camera. The monitor also gives you access to a DEF level gauge and allows you to customize the look of the main screen to display the information important to you.
The display also allows you too look in on the optional KomVision system. This three-camera system gives you a bird's eye view of the machine and the area around you. But you can also select to view each camera's individual view from the left, rear and right side.
"Other cab features are a very highly adjustable seat, heated seat; and kind of that whole Komatsu look and feel with the way the controls are precise," Jennings says. "[It still has] pilot controls; a lot of people still like the precision you still get from pilot controls versus the electronic joysticks you might find elsewhere."
On the maintenance side of things, the machine features a large one-piece hood with grease points, engine oil and fuel filters all located at ground level for easy access. A high-efficiency fuel filter and fuel pre-filter with water separator come standard. Also accessible at ground level are the DEF tank and pump and the battery disconnect switch.
"It's very easy to get to everything," Jennings says. "A lot of it is ground level access for doing your daily checks also at least for engine oil, it's right there, low where you can get [to] it. Again, it's built and designed like all of our other machines. Highly reliable, focused on serviceability and we have the dealers there to support you for that work."
Another important note on servicing, the PC130-11 comes with complimentary Komatsu CARE factory-scheduled maintenance for the first 3 years or 2,000 hours of the machine's life, whichever comes first.