Though hundreds of machines are making their debut here in Las Vegas this week at the ConExpo/Con-Agg and IFPE shows, one piece of equipment in particular has created quite a buzz.
Project AME (pronounced "Amy') is a 3D-printed excavator produced through a consortium of research teams that are part of the Center for Compact and Efficient Fluid Power (CCEFP). The excavator was unveiled as part of the opening of the show's new Tech Experience area near the South Hall.
The idea to produce a wholly 3D-printed excavator came in 2014 while CCEFP members were on a tour of Oak Ridge National Laboratory in Knoxville, Tennessee, according to a ConExpo show release. During the tour, the group was shown a car 3D printed for another trade show. Inspired, the CCEFP got to work on a machine for ConExpo and IFPE.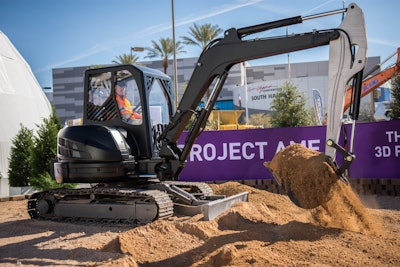 Project AME is the first large scale use of steel in 3D printing, also known as additive manufacturing. The machine was developed at Oak Ridge and these main components are 3D printed: the cab, the boom, a hydraulic oil reservoir, heat exchanger and cooling system.
The cab was designed by a team of students from the University of Illinois at Urbana-Champaign and is based on the Voronoi Pattern, a composition inspired by cell and microarchitecture known for providing structural rigidity to 3D-printed objects.
Soon after the sheet was pulled on Project AME, the excavator got to work moving dirt Tuesday morning. You can see it in action in the video above.