Though it offers autonomous operation on its 830E and 930E haul trucks, Komatsu has unveiled at the MINExpo show in Las Vegas a mining truck designed specifically for unmanned operation.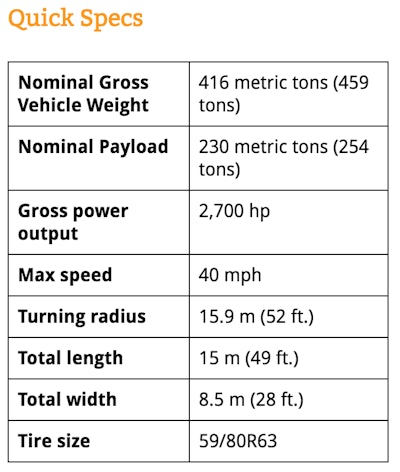 Typically, the only difference you can spot between manned and unmanned mining trucks is the lack of an operator inside the cab. But Komatsu's aptly-named Autonomous Haulage Vehicle (AHV) has no cab at all, making it a bit difficult at a glance to tell whether you're looking at the front or rear of the truck.
The company says the new truck design distributes equal load to all four wheels when the truck is loaded and unloaded. The truck also features four-wheel drive, retarder and steering, and is designed for high-performance shuttling in both forward and reverse.
Komatsu says it hopes these advancements will eliminate the need for K-turns when loading and unloading, something that would be a huge time saver and productivity booster at mines with slippery ground conditions and confined spaces—conditions that give current unmanned trucks fits.
The AHV is still in development but Komatsu says it hopes to bring a production model to market in the "near future."
Komatsu says that since 2008 dump trucks equipped with its Autonomous Haulage System have hauled more than 1 billion tons of overburden and minerals at large-scale mines mainly in Chile and Australia.