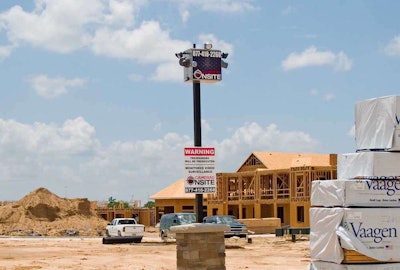 While surveillance devices have been a presence at retail stores and on some homes for decades, with cameras getting smaller, smarter and cheaper, more contractors are taking advantage of multiple surveillance options on their jobsites.
But as KPRC TV in Houston reports, a cottage industry is now popping up around mobile surveillance outposts can be used to monitor any number of areas, including jobsites.
Featured in the KPRC report below, Cameras Onsite offers surveillance towers outfitted with multiple cameras that not only monitor jobsites and capture high quality footage of any unwelcome intruders, but are also smart enough to call the police themselves.
The cameras have already helped capture suspects in the act of stealing construction equipment and trespassing inside vacant buildings.
"You'll have three or four guys go into a location where there are five or six buildings and the monitoring center can direct them," Luke Feild of Cameras Onsite told the station. "They can tell police they went to the south building or the third structure. It shortens the police officers' time and where to look."
Some cameras are equipped with technology that triggers them to direct employees to monitor them when there is any type of motion.
The police are able to respond quicker and more efficiently, with some officers making it to the site within two or three minutes, Feild said.
"The cameras will spot you. It will figure out what is going on. At that moment it goes straight to the monitoring center and pops up on the monitor screen as to what triggered you and has a live feed showing what is currently taking place," says Feild.