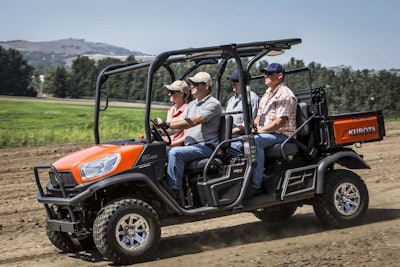 Kubota's latest utility vehicle has a pretty cool trick up its sleeve, with functionality similar to a Chevrolet Avalanche.
The new RTV-X1140 comes standard with a hydraulic dump bed with a capacity of 19.1 cubic feet. But in a few simple steps all that cargo room is quickly converted to rear seating whenever you need to haul people instead of materials.
By swinging in the sides of the cargo bed, you can actually fold the bed up and flip down rear seating for two more passengers, quickly converting this clever UTV from a two-seater to a four-seater.
And you still have a ample cargo space in the four-seater configuration—9.1 cubic feet to be exact.
The RTV-X1140 is powered by a 24.8-horsepower Kubota engine paired with a variable hydraulic transmission. The UTV also boasts front and rear inducement suspension on all four wheels with 10.8 inches of suspension travel for improved ground clearance.
Beyond the cargo bed, there's plenty of space to stash your stuff in this UTV as well. There's a large glove box on the passenger side along with under-seat storage compartments.