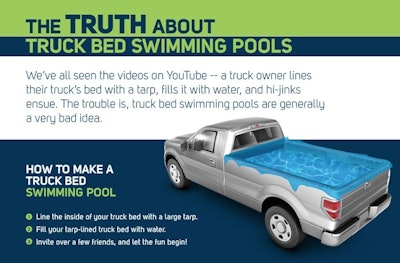 Ever thought about cooling off by throwing a tarp in the bed of your truck and filling it with water?
Maybe you have and maybe you haven't. The point is, apparently truck bed swimming pools are enough of a sweeping national crisis that pickup bedliner company DualLiner had seen enough.
So they put together the infographic you see below, first shared by TruckYeah!, to better educate those who might be tempted to beat the heat this way of the way you might be damaging your pickup.
[youtube i4heezE7AjA nolink]
As the infographic explains, water is quite dense and therefore is much heavier by the square foot than both wood and crushed asphalt.
Fill your truck bed with water and then add in some people and you've quickly exceeded your pickup's max payload capacity. If you want a real world example, the guy in the video to the right saw his tailgate stretched as a result of one of these pools
But if you just can't help yourself and you've got to have a pickup that can handle a truck bed pool, DualLiner was able to find two trucks with ample enough payload capacities. They're both duallies. Check out the info graphic below.