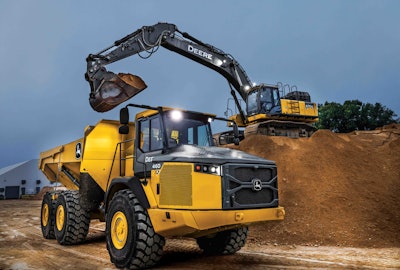 John Deere
John Deere has expanded its P-Tier portfolio to include a pair of articulated dump trucks, the 410 and 460 models.
Under the new tiering system, Deere has dropped the letter at the end of the model's name that signified the machine's generation. In place of that letter is one of three letters meant to signify its performance and technology tier: a G, P, or X.
Each letter represents a set level of features, with G as the economy model; P includes advanced features, and the X-tier denotes the company's hybrid diesel-electric technology and most advanced features.
For the ADTs, a redesigned, wider dump body than previous models boosts material retention and lowers loading height and center of gravity, improving cycle times in quarry and aggregate applications.
Overall, the trucks retain the same high-alloy steel dump body, fuel efficiency and drive modes as the previous E-Series models. Deere says all the P-Tier ADTs include additional updates to the external styling and interior cab layout to modernize the fleet while maintaining productivity.
Justin Steger, solutions marketing manager at John Deere Construction & Forestry, said a variety of onboard features helps eliminate some of the operator inputs, enabling simplified operation and increased productivity.
These include the following:
Rollover protection — alerts operators to unsafe dump angles and stops the dump cycle.
Downhill dump protection — automatically calculates ADT position so the dump body doesn't move over-center when emptying downhill.
Auto dump brake and driveline assist — service brakes latch during unloading.
Hill hold — automatically applies service breaks when the truck is stopped on an uphill slope and the operator's foot moves from the brake pedal to the throttle, preventing backward machine roll.
Frame protection — cushions bin travel back to the cradle, preventing aggressive frame seating if dumping is stopped before the bin is fully empty,
Shuttle shifting — transmission may be shifted without the ADT coming to a stop, improving cycle times and eliminating operator abuse.
Steger said dump body limits, standard transmission warm-up cycle and max speed limits help to keep the operator and machine safer and up and running longer. "The P-Tier models were built with the operator in mind to support ease of use and operator comfort."
Like previous models, the P-Tier ADTs include three drive modes to match the application:
Normal mode is for typical operation
Eco mode automatically adjusts engine power by smoothing throttle input, reducing maximum rpm and optimizing transmission response while limiting horsepower for fuel savings of up to 7% over E-Series models and up to 12% compared to Normal mode, Steger says.
Traction mode applies added control to the auto-differential-lock system and powertrain to maximize traction over soft and slippery ground.
As part of the P-Tier design, customers can choose from two trim levels, as well as add a variety of optional packages including those for enhanced operator comfort, cold weather conditions, debris management and maintenance and service capabilities.
Steger said the first trim package option offers familiar features such as a black exhaust stack, manually adjusted rearview mirrors and temperature controls, a standard high-back air-suspension seat, radio, a 15-amp converter and halogen vehicle lights.
For elevated creature comforts and controls, he said, the second trim package offers a chrome exhaust stack, power-adjusted rearview mirrors, a premium seat, radio, a 25-amp converter, automatic temperature control in the cab and LED vehicle lights.
Steger says the LED drive-lights package delivers twice the lumen output of standard halogen lights and includes additional work lights three times as bright as optional halogen ones. This option provides a total of 11 LED lights with stairway lights that are push-button operated from inside the cab and at ground level.
"Redesigning the layout of the components in the cab and grouping features together and packaging them in a meaningful way based on the application are a couple of examples of how we're incorporating customer feedback and delivering further improvements," he said.
From a maintenance perspective, Steger said, all daily checks and periodic service are accessible from ground level, including refill of fuel and diesel exhaust fluid (DEF).
Optional factory-installed auto lube is electrically powered and integrated with machine diagnostics to help simplify daily maintenance.
Electrical harnesses and hydraulic hose-line routing has been simplified to improve the reliability of the new models. There are 10% fewer connections than in the E-Series models, minimizing system complexity.
Quick Specs
410 P-Tier
Net Power: 441 hp at 1,700 rpm
Rated Payload: 82,157 lbs.
Heaped Capacity: 30 cu. yds.
460 P-Tier
Net Power: 481 hp at 1,700 rpm
Rated Payload: 92,197 lbs.
Heaped Capacity: 32.9 cu. yds.