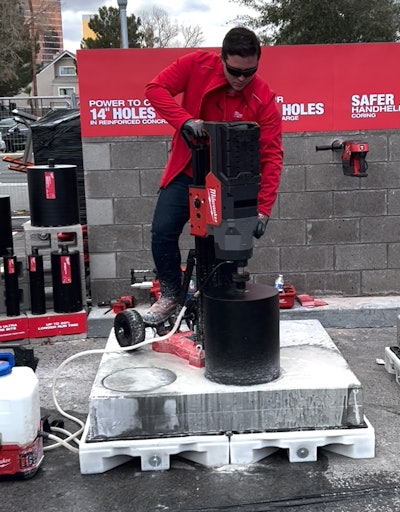 Equipment World
Last year's World of Concrete was all about the cordless concrete tool and demonstrating its ability to match and in some cases surpass its corded counterpart on heavy-duty applications.
Battery-powered jackhammers, drills and saws powered easily through inches of concrete at longer runtimes and faster charging capabilities, showing attendees that the cordless concrete jobsite was feasible here and now.
World of Concrete 2023 was no different as far as the battery-powered tools on display, but the sales pitch was more about the environmental benefits of going to battery power over gas-powered equipment, which not only reduces jobsite emissions but noise. Tool manufacturers, which had impressed visitors in 2022 with amazing feats of cordless power, were now more focused on rounding out their inventories with smaller and mid-range battery-powered products.
The show also displayed an industry that is rapidly advancing from the gee-whiz factor of simply going cordless to benefitting the health of workers and those outside the jobsite.
Here's a look at some of the highlights in cordless concrete tools from major manufacturers Bosch, Milwaukee Tool, Husqvarna, Hilti, Makita and DeWalt.
Bosch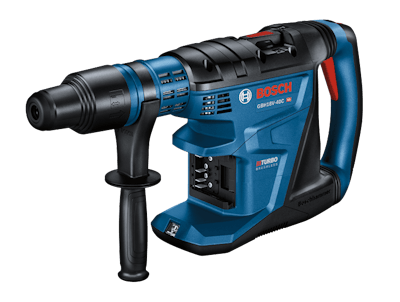 Bosch plans to introduce 32 new 18-volt cordless tools this year to add to its CORE18V battery platform, including its ProFactor high-powered lineup.
Bosch is maintaining its commitment to its one-battery platform that is interchangeable among its tools. At World of Concrete, the company displayed and demonstrated the following cordless concrete tools:
18V Bulldog SDS-plus 1" Rotary Hammer (model number GBH18V-24C) – delivers 1.8 foot-pounds of impact energy and features a brushless motor to increase battery runtime and KickBack Control to reduce the risk of sudden tool reactions in binding conditions.
ProFactor 18V 1-5/8" SDS-max Rotary Hammer (GBH18V-40CK) – delivers 6.7 foot-pounds of impact energy for drilling and chiseling. It weighs 15.4 pounds (not including battery).
BlueCollar SDS-max Hammer Dust Collection Attachment for R-tec Chisels (HSD1934, HSD1935, HSD1936) – Bosch calls it a two-in-one dustless solution, with the BlueCollar R-Tec chisel and adapter already attached. That results in assembly up to five times faster, the company says. The chisels are compatible with any SDS-max hammer, and the BlueCollar adapter is compatible with all R-tec chisels.
ProFactor 18V 5-6" Angle Grinder (GWS18V-13P and GWX18V-13P) – It is comparable to a 13-amp corded grinder and features KickBack Control that helps shut off the tool if the wheel gets into a bind situation and restart protection to help prevent accidental tool startup if the supply of power is interrupted.
18V X-LOCK 5"-6" 13A Paddle Switch Grinder (GWX18V-13P) – features X-Lock wheel change for click-in mounting and grinder-lever wheel release and tool-free wheel swap.
Milwaukee Tool
Milwaukee Tool added to its MX Fuel Equipment System, which it says provides instant starts with no gas headaches, no regular maintenance and zero emissions.
The tools are compatible with the company's MX Fuels RedLithium batteries. It released two new batteries and a charger at the show: RedLithium HD12.0 and XC8.0 batteries for longer runtime and the new MX Fuel Super Charger, which can charge the XC8.0 battery in under 45 minutes and the HD12.0 battery in under 65 minutes.
New tools to operate with the new batteries include:
MX Fuel Core Rig with Stand – can core up to 14-inch holes in reinforced concrete. It features intuitive bit removal and a three-piece modular design. With an MX Fuel RedLithium HD12.0 battery pack, it can drill four 10-inch holes in reinforced concrete per charge.
To check out the Core Rig in action, watch the video below:
MX Fuel 6" Green Concrete Saw – cut up to 1-1/2-inch depth on a 6-inch blade. With an MX Fuel RedLithium XC8.0 battery pack, it can cut up to 160 feet per charge. The company also introduced Diamond Blades for Green Concrete.
Husqvarna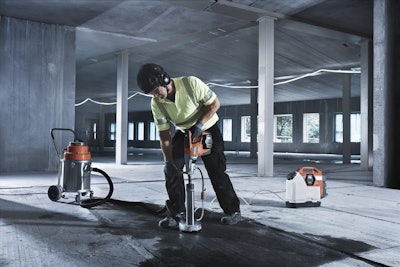 Husqvarna introduced new cordless products as well as showed some innovations, such as saw blades designed to maximize battery runtime.
The company's tools run on its new PACE battery platform. It unveiled a 94-volt system for its concrete saws, including the K 1 saw for cutting through concrete pipes and cinder blocks. The battery is designed to make the tool no heavier than the gas-powered version.
Other products included:
DM540i core drill – It uses the company's BLI battery system, which is interchangeable with other Husqvarna tools. The company says it is the lightest weight in the industry at 15 pounds. It is 11 inches long for using in confined spaces. It features two speeds and drills from 1 to 4 inches in diameter. It can also be used on a stand.
DeWalt
DeWalt continues to add new products to its cordless lineup. Those at World of Concrete included:
60V MAX 27 lbs. Cordless SDS MAX Chipping Hammer (DCH911) – delivers up to 27 Joules of impact energy for horizontal and downward chipping for mid- to lower-wall and flooring tasks including wall breaching, channel creation, bushing and scarifying. With up to 1,620 blows per minute, the hammer has a 1- to 5-inch chipping range.
60V MAX 38 lbs. Cordless 1-1/8 HEX Breaker Hammer (DCH966) – delivers up to 40 Joules of impact energy for chipping in mid- to lower-wall and flooring tasks and applications including powered digging, channel creation and slab demolition. It delivers up to 1,080 blow per minute with a chipping range of 1 to 8 inches.
60V MAX 7-9 in. Large Angle Grinder (DCG460) – DeWalt's first cordless large angle grinder delivers more than 2,800 maximum watts out with a brushless motor. Features include a Kickback Brake to stop the blade when a kickback is detected; E-Clutch System that immediately shuts down the motor when a pinch or stall is sensed; and a No-Volt switch that prevents the tool from restarting following a loss of power.
DeWalt ToughSystem 2.0 Dual-Port Charger (DWHT08050) – charge, store and transport select DeWalt 20V MAX and 20V/60V MAX FlexVolt batteries. It has two ports for simultaneous charging and two USB ports for powering personal electronic devices. Charging is enabled when the lid is shut. It is cooled by a built-in fan to help prevent overheating. The built-in storage space can hold up to 12 20V MAX and 20V/60V MAX FlexVolt batteries (depending on the battery sizes) and two more in the charging ports.
Hilti
Hilti reports that it plans to release more than 30 new Nuron battery-powered tools in 2023.
Those at World of Concrete:
DSH 700-22 Battery Cut-Off Saw – It nearly eliminates the need for gas-powered cut-off saws on the job and cuts through all types of concrete, asphalt, rebar and other materials, Hilti says. It weighs 29 pounds with batteries and blade. It has a max cutting depth of 4-3/4 inches with 12-inch blade.
TE 5-22 SDS Plus cordless rotary hammer – features three operation modes for hammer drilling and chiseling. It is equipped with Active Torque Control to help prevent wrist injuries by stopping the tool from spinning if a drill bit jams. It comes tether-ready for drop protection.
TE 2000-22 cordless jackhammer – for breaking up concrete up to 8 inches thick and other demolition work. Hilti says it is 22 pounds lighter and much slimmer than comparable battery-powered hammers and is designed for medium-scale and controlled demolition jobs.
NCV 10-22 Ultimate Concrete Vibrator and NCV 4 Compact Concrete Vibrator – no more need for a corded or gas-powered concrete vibrator.
NMX 6-22 Cordless Mixer – features multiple speed settings when mixing materials such as ready-to-use concrete, plaster, drywall mud, adhesives.
Makita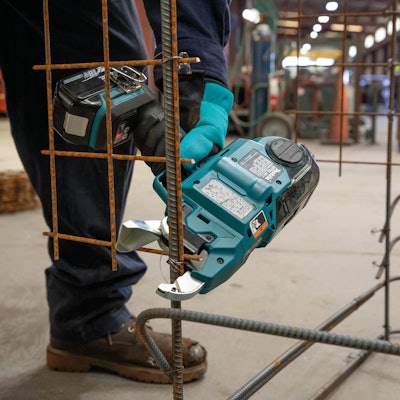 Makita debuted several concrete tools for contractors wanting to make the switch from cords and gas:
40V max XGT Concrete Vibrators (5-1/2', GRV01; 8', GRV02) – The two new cordless concrete vibrators deliver up to 15,500 vibrations per minute. Both have two power settings and will deliver up to 60 minutes of runtime in normal mode on a single charge of a 40V max XGT 8.0Ah battery.
40V max XGT 4-1/2"/5" X-LOCK Angle Grinder (GAG11) – The brushless motor has up to 60% faster cutting speed than the previous Makita XAG04 and includes a variable speed control dial X-LOCK Quick Change System for tool-free wheel changes.
18V LXT Deep Capacity Rebar Tying Tool (XRT02) – can tie up to #8 x #7 rebar. It delivers up to 4,000 ties of #4 x #4 rebar on a single charge of an 18V LXT 5.0Ah battery, Makita says.