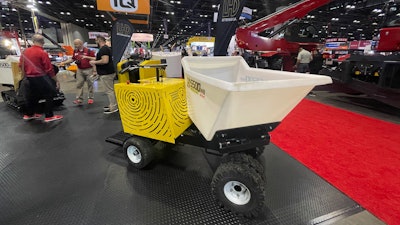 Equipment World
At the recent ARA Show in Orlando, Florida, LHD Machinery showcased what it says is the world's only side dump wheeled buggy.
Powered by a 14-horsepower Kohler CH440 engine, the 5500WB Side Dump offers a 16-cubic-foot poly bucket with a 2,500-pound payload capacity, suited for hauling concrete and other materials.
It features wide-stance rear wheels and a pivoting rear axle, which LHD says provides a safer and more comfortable ride as well as the support needed to perform the side dumping function.
"Wheeled buggy sales had fallen off because they don't side dump," said CEO Tony Abrams. "The feedback on this machine has been great because now contractors and homeowners can get the side dump function with the affordability of a wheeled buggy."
All hands-on controls enable the operator to keep both hands on the steering bar at all times. The 1,325-pound unit can travel at speeds up to 6 mph.
For operators needing to travel through narrow gates, the width of the machine can be reduced from 46.5 inches to 34.5 inches by removing the front outside wheels. All tires are foam filled.
Thanks to a closed-loop hydraulic system, the machine is virtually maintenance-free, the company says. It also includes an hour meter and parking brake.
The 5500WB is also available in a straight dump version.