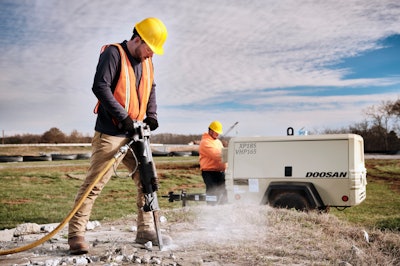 Doosan Portable Power's new Evolution Series portable air compressors feature FlexAir technology, which allows operators to adjust air pressure to a wide psi range.
Three of the Evolution Series compressors — the XP185-VHP165WDO-T4F, P185-HP150WDO-T4F and P250-MHP185WDO-T4F — feature FlexAir. The fourth model, the C185WDO-T4F, is designed as a lower-cost model for the rental industry.
"Previously, we used a pneumatic regulation system that mechanically determined the output," Cody Blythe, air compressor manager, Doosan Portable Power, told Equipment World at World of Concrete this week. "With FlexAir, now you can go to the front of the machine and use the control panel to adjust the pressure up and down.
"It doesn't matter if the machine is running or off," Blythe adds. "No one has to cut off the machine or open the doors." This compares with using a wrench to change psi, a common feature on compressors.
"It's also the only under-400-cfm compressor in the market that can do 200 psi at 165 cfm," he says, adding that Doosan created it in part for contractors blowing in shorter-run fiber optic cables.
"Companies in this sector now have a 185-cfm portable air compressor they can use to power fiber optic blowing machines, which typically require 200 psi but less than 200 cfm," Blythe says. And they can use a machine that's priced at $30,000, compared with the $45,000 to $50,000 of the larger units.
Air compressor operators typically face the challenge of hose line pressure loss. As the hose connecting a pneumatic tool to an air compressor becomes longer, air pressure at the tool drops. With FlexAir, the operator can easily increase pressure to compensate for the loss, Doosan says.
Powered by D24 V2 Doosan engines (the C185 has a D18 V2 engine), Evolution Series compressors feature a new, upgraded fuel system that is designed for reliable operation on dusty jobsites.
Models featuring FlexAir include the XP185, which produces up to 185 cfm with pressures ranging from 100 to 200 psi and an optional 4-kilowatt onboard generator for charging handheld electric tool battery packs.
The two other FlexAir models are the P185, which produces up to 185 cfm with pressures ranging from 100 to 150 psi and the P250 which produces up, to 250 cfm with pressures ranging from 100 to 175 psi.