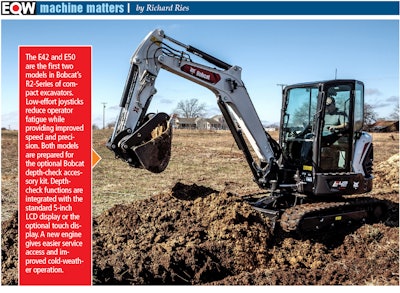 Compact excavators are rapidly evolving as contractors come to rely more heavily on them for tasks beyond digging in tight spaces or for small jobs. Yet not all manufacturers are focusing on the same advancements as their competitors.
What comes standard on one OEM's machines may be an option on others, or possibly not much of a focus at all. That can make it more challenging for contractors in the market for a new compact excavator, as the standard equipment and options vary from brand to brand and model to model.
Telematics serve as an example of the disparity in standard equipment on machines. Many OEMs tout the benefits of telematics. And it's gotten to the point where saying a machine has telematics is like saying it has operator seating. It's just obvious that the service will be included with the purchase.
Or is it?
As it turns out, not all manufacturers include telematics service as standard.
For instance, Wacker Neuson provides the hardware for telematics as standard on all its compact excavators, but not the subscription to its EquipCare service, says John Dotto, product application and training specialist. The company recognizes that not all customers want telematics, and those who do may want different levels of service. Customers also realize there is no such things as "free" telematics; the expense of the service is simply baked into the initial acquisition cost.
"We encourage customers to work with their dealers to get the plan and subscription that works best for them," says Dotto. "Some may opt for no telematics at all."
Doosan also offers no factory-installed telematics option, but it does configure all its compact excavators with cabs with HVAC. "Open canopy Doosan mini excavators are available as an option," says Aaron Kleingartner, dealer and product marketing manager, Doosan Infracore North America. The longstanding assumption that a canopy is the standard configuration and a cab is an option illustrates further the variability of "standard" equipment.
Takeuchi offers the Takeuchi Fleet Management (TFM) System on all but one of its compact excavators; its smallest model, the TB210R, is left out. The features are typical of standardized telematics and include run time, idle time, geofencing and remote diagnostics. Reports are sent to the dealer, "which ensures a proactive approach to machine maintenance and improves machine uptime," says David Caldwell, product manager, Takeuchi-US.
TFM is available during the two-year warranty period and with extended warranties after the original factory warranty has expired. Owners can also opt for one- to three-year subscriptions without the extended warranty.
Mecalac offers MyMecalac in Europe and will bring it to North America in late 2020, says Peter Bigwood, general manager, Mecalac North America. Mecalac developed telematics later than many manufacturers, which Bigwood says is an advantage. "We started with a technology that was already fairly mature and avoided the teething pains experienced by some other manufacturers. MyMecalac is state-of-the-art in its first iteration."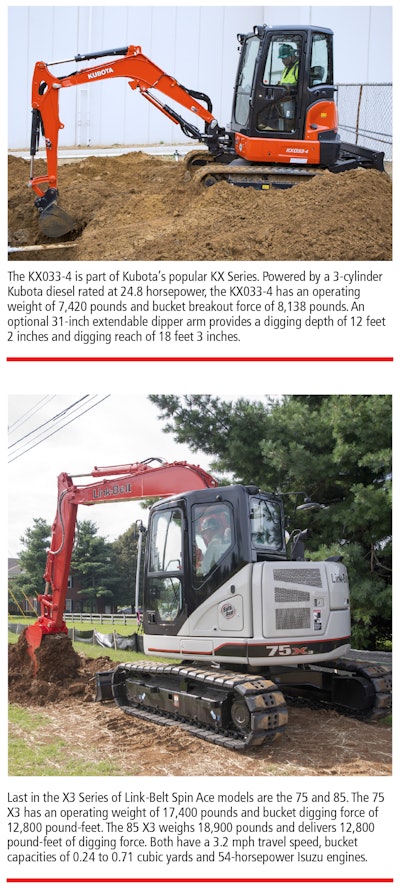 Despite advancements in telematics, Greg Worley, Cat product application specialist, says, "telematics still have some way to go, especially for smaller equipment or smaller fleet operators." He sees ease-of-use features as a growing focus, even for smaller customers. He cites such examples as grade control, site reference, payload monitoring, slope assist and geofencing, items that can be integrated from the factory or installed after purchase as plug-and-play upgrades. "These features save time, save money and always show up for work," Worley says.
JCB included its LiveLink telematics on -1 models and includes the service with new -2 Series machines, so there's no change there. But two other features introduced on -2 models are noteworthy. Lift overload monitors grade and slew position and shows the percentage of capacity within those limitations. Health Check gives a report within five seconds of turning on the key; the operator must acknowledge any faults before putting the machine into operation.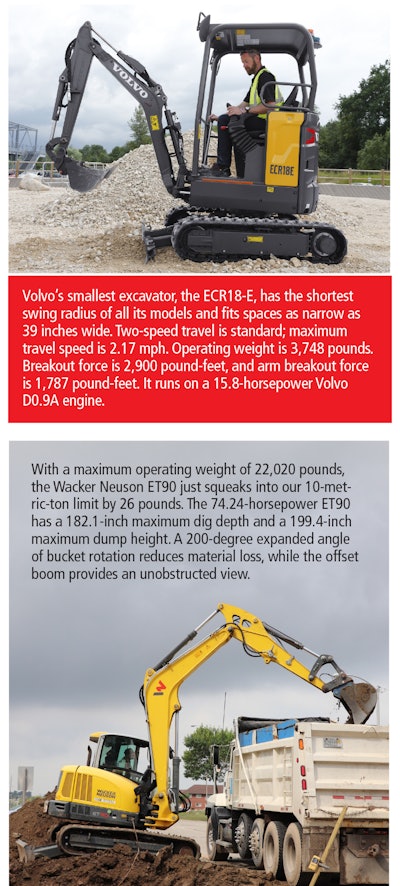 Just as initial acceptance of telematics was slow, operators can be slow in embracing other technology. Dotto cites the use of Eco mode as an example. "Most operators in North America leave the machine in Power mode and never touch the Eco button." He suggests contractors use the Power mode for a month while tracking productivity and fuel use, then run in Eco for a month while tracking the same variables. "If using Eco saves fuel with no loss of productivity, why not make the change?" he asks.
Rapid evolution
Compact excavators continue to rapidly evolve, says Kurt Moncini, Komatsu senior product manager. Komatsu has new models coming soon, and while Moncini could not comment on specifics about those machines, he spoke of how market forces continue to shape the new excavators. "This is a heavily utility-oriented segment, and these compact models are more capable than mini excavators yet more transportable than mid-size models."
Hardware is changing, notes Moncini. Viscous fans and rubber isolation cab mounts reduce noise levels for both the operator and the community. Rubber tracks and road liner shoes are popular, especially in urban environments where these machines are often used. Quick couplers are common and are an example of features migrating from smaller machines to larger ones. Thumb brackets and higher auxiliary flow expand attachment options. Adjustable presets accessed through the monitor match machine performance to the demands of specific attachments.
Despite the advances, compact excavators are far from fully evolved and improvement is ongoing. Jonny Spendlove notes that while John Deere models have such standard features as selector valves and pattern control changers, they still use pilot valve hydraulics. Compact models often must be operated with finesse, whether digging or running an attachment, and Spendlove says electro-hydraulics aren't as advanced as they should be. While there are advantages to electro-hydraulics, Spendlove says they won't become the standard in compact excavators until they can duplicate the feel and precision of pilot controls.
For Link-Belt, evolution has leapfrogged past its only two models below 10 metric tons. "The 75 X3 and 80 X3 are our last two X3 models," says Rob Dulaney, Link-Belt product specialist. "Everything larger is one generation ahead as an X4 model." He explains that the 75 and 80 were Tier 4 Final from the outset; whereas, those that are now X4 machines were Tier 4 Interim. The 75 and 80 were advanced for their time with a robust X-car undercarriage, pattern change ability, boom and arm regeneration and controls pre-wired for auxiliary hydraulics. "They use pilot hydraulics, and each control valve and spool is sized for the 75 or 80, which in turn is tuned to get the greatest performance from that hydraulic system." Eventually these models will be updated and join their other two Spin Ace stablemates, the 145 X4 and 245 X4, as updated machines. Given the competence of their current design, however, there's no sense of urgency here, Dulaney says.
Fundamental changes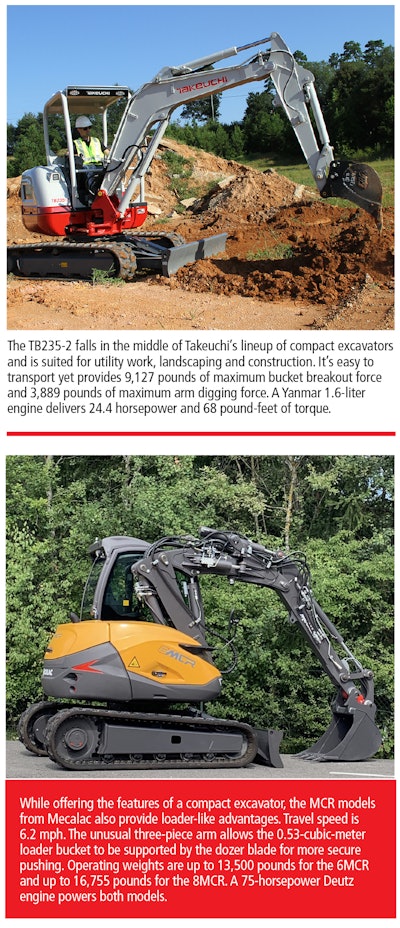 While pursuing evolutionary changes, OEMs are also exploring fundamental changes to the market. "Wheeled excavators are common in Europe but relatively new to North America," says John Comrie, product manager, Volvo. "They are starting to take hold here, though, as contractors and government fleets recognize their versatility and speed." Of Volvo's seven wheeled excavators, one fits the compact category, the 6-metric-ton EW60E.
Volvo addressed the specific needs of the rental market with the ECR18E, introduced in 2019. A top-mounted boom cylinder offers protection during loading and braking. Large tie-down points on the upper frame facilitate transport. The canopy has heavy-duty pillars, and panels are metal. "We were seeing growing demand for short-swing models in this class, and the ECR18E has a rear overhang of only one half-inch with the tracks extended," says Comrie.
Other changes to the Volvo line include mechanical or, for machines above 3.5 tons, hydraulic quick couplers. The Steelwrist tiltrotator is available on many models, providing 360 degrees of rotation and 45 degrees of left and right tilt.
Mecalac started with a clean sheet design in developing its 6MCR, 8MCR and 10MCR machines. Because MCR models have combined traits of excavators and skid steer loaders, both excavator and skid steer buckets are available, as are forks and other loader attachments. A universal skid steer adaptor allows installation of most skid steer attachments to an MCR. Top travel speed is 6.2 mph. An offset boom is standard.
Design elements common to all Mecalac excavators were retained. The most apparent example is the three-piece arm consisting of a stick and two-piece boom. The articulated boom yields a tight swing radius and allows the bucket to rest against the dozer blade in skid steer mode for more secure pushing.
Left joystick travel controls function as skid steer controls when the MCR machine is used in skid steer mode, although excavator-style foot pedal travel control is also available. An SAE/ISO pattern changer is standard. "Mecalac controls are different because Mecalac design is different," says Bigwood. "We keep improving the operator/machine interface with controls that are elegant yet simple."
Chris Lucas, JCB excavator product manager, notes that while demand continues for reduced- and zero-tailswing models for use in constricted spaces and for ease of transport, many operators prefer the extended reach and greater breakout force of conventional tailswing models.
Starting with the U27-4 and going up through the KX080-4s, Kubota excavators are equipped with a hydraulic diverter valve located on the arm. On machines equipped with a thumb, this allows the use of other attachments requiring auxiliary flow without disconnecting thumb hydraulics. KX040-4 and larger models have a two-service port option in which two sets of hydraulic circuits are available. The two-service port feature is standard on the 8-ton KX080-4s.
Bobcat launched the R2-Series E42 and E50 compact excavators. Incremental changes include reduced-effort joysticks for less operator fatigue, a redesigned Bobcat engine that is quieter and easier to service, LED lighting and automatic heat and air conditioning.
The R2-Series also features dual-flange track rollers that extend the undercarriage structure closer to the track's edge for improved over-the-side performance, better slewing ability and improved operator comfort. An optional clamp diverter valve improves clamp functionality and enables running other attachments without disconnecting the clamp. As with all Bobcat models, the R2-Series machines feature an in-track swing frame, which allows operators to get closer to their work. Swing castings and cylinders stay within the track frame when offset digging. "Operators can truly dig flush against obstacles," says Jason Boerger, Bobcat marketing manager.
In addition, the E42 and E50 are approved and ready for the optional Bobcat depth-check accessory kit. The system detects the position of the bucket's teeth to set a desired digging depth and work against that benchmark. This reduces over- and under-digging, which minimizes rework. "Customers doing a lot of digging, such as trenching, basements or footings, especially appreciate the depth-check system," says Boerger. "Depth check can reduce the costs associated with backfilling and compacting fill material."
Electric models
"Electric models are currently more popular overseas," says Spendlove. "We're in the early days of development in the U.S. and Canada. Without commenting on specifics, I will say it is something John Deere is focused on and monitoring."
JCB introduced its 19C-1E in 2018. Electric models are expensive to engineer and to buy. "But electric has much lower owning and operating costs and therefore very good return on investment," says Lucas. JCB's studies show a 47 percent reduction in costs at one week, 500 hours, 1,000 hours and 1,500 hours through data samples taken over three years. Key drivers in cost reduction are lower fuel, reduced maintenance and the elimination of fume extraction costs.
Run time for the 19C-1E is four to six hours, depending on application. Lucas says this actually provides a full day of intermittent operation with good management practices. "The key is to keep it charged by trickle charging when it's not in use."
Complete recharging can be done in 12 hours using 110 volts or around eight hours with 220 volts. A fast charger about the size of a suitcase running on 480 volts can be plugged in or hard-wired in place for a recharge time of about 2.5 hours. Fast charging works well for rental, while overnight is fine for most contractors, says Lucas. Batteries are lithium-ion with a service life of five years or 6,000 hours. Electric models should be stored with 100 percent charge and recharged at 20 percent. LiveLink can trigger an alert when the 20 percent level is reached. The optimal storage temperature range is 59 to 77 degrees Fahrenheit, with -40 to 158 degrees being the absolute limits.