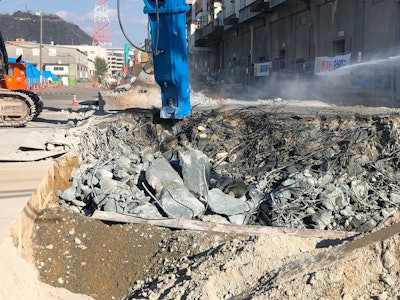 Okada's TOP 1000J hydraulic hammer is designed for excavators weighing 82 to 110 tons.
Applications for the 17,000-foot-pound class breaker include demolition of heavily reinforced concrete structures, building foundations, trench rock and boulders.
The hammer requires 92 to 110 gallons per minute of hydraulic flow at 2,470 to 2,900 pounds per square inch, and it breaks at a rate of 200 to 280 blows per minute.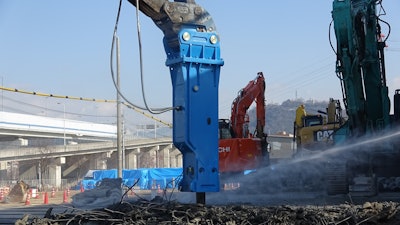 Features on the hammer include a large-capacity accumulator to reduce pressure spikes to protect the excavator's hydraulic system, and nitrogen gas to cushion the piston's upstroke and increase downstroke.
A central grease port allows the breaker to easily adapt to most auto-lube systems, the company says. Cup seals are used to secure flow in the oil and gas chambers.