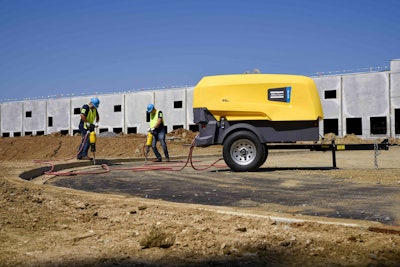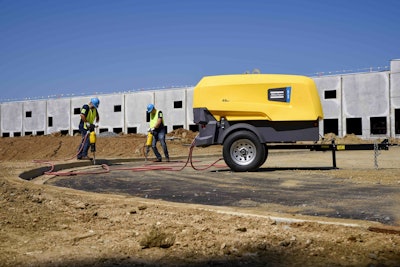 Atlas Copco's newly redesigned XAS 188 air compressor can deliver up to 189 cubic feet per minute of air flow for 11 hours on one tank of diesel fuel.
The company calls the XAS 188 the flagship of its small range of diesel air compressors, designed for towing to and from worksites. It is able to run two 90-pound hammers at the same time.
The compressor's fuel tank holds 27 gallons and delivers 189 cfm at 2.37 gallons per hour, the company says. The single-stage, oil-injected rotary screw type compressor runs on a 49.6-horsepower Tier 4 Final Kubota engine. The engine can start in temperatures as low as 14 degrees Fahrenheit with the standard glow-plug and can start at -13 degrees with a cold start option, the company says.
To reduce fuel consumption and boost productivity, Atlas Copco redesigned the air end element with a gear box that delivers more air power with less engine power. It also extended the service interval to 1,500 hours or two years when using synthetic compressor oil. Service takes less time due to a new spin-on oil separator. The company says no special tools are required, and maintenance can be completed in less than an hour.
Atlas Copco designed the compressor's shell to open 60 degrees for easier maintenance access. The HardHat heavy double polyethylene shell dampens noise and resists dents and sun damage, and its internal toolbox has enough space for a 90-pound hammer, the company says.
The compressor is regulated by a new Xc1004 controller with a 3.5-inch touchscreen display. The controller can disconnect the battery to prevent it from losing power while the XAS 188 is not running. It displays such data as run hours, fuel level, outlet pressure, rpms, machine temperature and voltage. It also delivers safety warnings and shuts down for such incidents as the engine coolant getting too hot and compressor oil, engine oil pressure and fuel levels dropping too low.
Atlas Copco says it made the compressor simpler to get on and off the jobsite, with its heavy-duty single axle, 15-inch tires and external lifting eye for hoisting. The XAS 188 also has a "110 percent spillage-free containment frame to protect from spills and leaks, avoiding costly cleanup."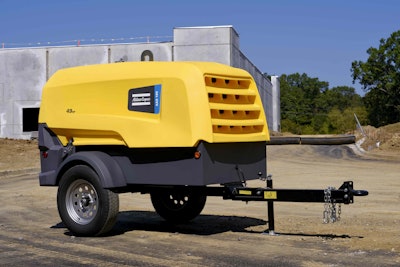 Quick specs:
Working pressure: 100 psi
Max free air delivery: 189 cfm
Horsepower: 49.6
Fuel tank capacity: 27 gallons
Sound pressure level: 76 decibels
Length: 10' 10"
Width: 5' 2"
Height: 5' 9"
Weight (trailer mounted): 2,100 lbs.