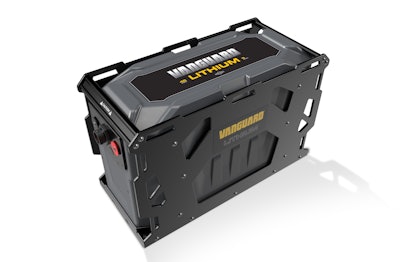 "We are taking all the experience we have with engines and moving it into batteries," says Stephen Avery at Briggs and Stratton. "OEMs are coming to us for engines for their manned vehicles and batteries for their robots," he says.
The battery launch at the recent World of Concrete show centered around the company's 5 kW Vanguard lithium ion battery which will be offered with its own controller and charger. Eventually the line will include batteries from 2.5 kW up to 20 kW.
The batteries can be wired in parallel, up to four at a time, says Avery. The battery controller monitors current and temperature to protect the battery from overheating.
Vanguard is also producing a service tool that can identify a weak or failing battery cell and has made the battery packs modular and serviceable so you can disassemble them and replace the any cell that might not be functioning properly. Made in the United States, the batteries are Tier 1, lithium ion batteries, which says Avery, are highest quality commercial batteries available.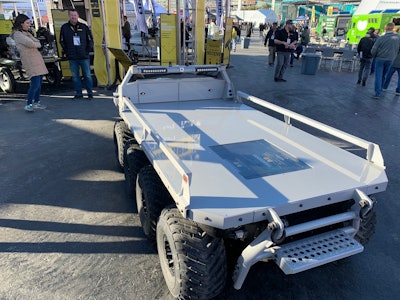 To demonstrate the capabilities of the new Vanguard batteries at the World of Concrete booth, the company put four into an Argo all-terrain vehicle with a cargo capacity of 1,500 pounds. (Argo is a Canadian manufacturer of ATVs for recreational, commercial and military applications.)
With the four batteries wired in parallel, the Argo flatbed buggy sprinted around the booth handily. It has a range of about 50 kilometers (31 miles), six hours of run time on flat ground or about three-hours on hills. The simplicity of using a battery for this and other types of unmanned vehicles enables you to operate them with a remote control device or a tablet and set of GPS guidance instructions.
Charge time for the batteries is about six hours and the chargers can be put in parallel for faster charge times.
While using batteries is slightly more expensive than gasoline engines, the goal is not to replace the gasoline models but to offer customers an expanded range of power options, says Avery.
The Argo, for example, can be used as a material transport vehicle and cross shallow rivers or boggy areas and can also be used to carry material, cameras, GPS rovers or measurement devices into hazardous areas where you wouldn't want to put a human, or indoors where gasoline engine fumes might be problematic. "We are reaching markets we didn't reach before," Avery says.